One of the buildings bordering Grant Park is the magnificent Auditorium Building, designed by Adler and Sullivan in 1889. This building among others defined 'Michigan Cliff', a range of high-rise buildings overlooking Grant Park. Later, this urban view would be consolidated by Daniel Burnham's 1909 Chicago plan.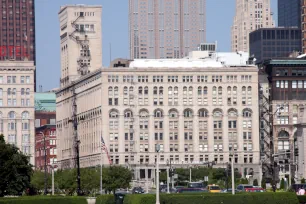 Ferdinand Peck, a Chicago businessman, commissioned in 1886 the firm of Adler and Sullivan, at that time best known for their theaters, to build a complex multiple-use building which would incorporate a large civic opera house together with a hotel and an office block.
The result is a great engineering and design feat. The immense unevenly distributed weight of the load-bearing granite and limestone walls required an ingenious foundation system which was devised by Adler to equalize the settlement of the structure.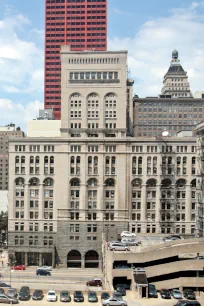 Design
The Auditorium's exterior features a two-story, rough-hewn granite base topped by a floor of rusticated limestone, and above, a smooth-faced limestone that created a flat wall plane from the fourth floor to the tower.
The exterior design is based mainly on H.H. Richardson's design of the Marshall Field Wholesale Store, which stood at Adams and Wells until 1930. The hotel's entrance, located on Michigan Avenue, is marked by three great arches. The offices were placed to the west on Wabash Avenue, while the entrance to the auditorium is on the south side beneath the seventeen-story tower.
A Grand Theatre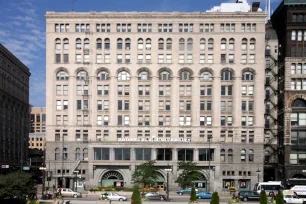 The offices and hotel were added to the Auditorium complex mainly to fund the principal part of the building: the grand theater, brilliantly designed by Louis Sullivan. Dankmar Adler on the other hand devised a hydraulic operated stage and one of the first air-conditioning systems for public buildings.
In 1946, the Auditorium was purchased by Roosevelt University, who still occupies the building today. The theatre, which wasn't used after the 1930s, was restored thanks to the Auditorium Theatre Council and reopened in 1968.