Inspired by the Gothic cathedrals of Europe, Chicago's Fisher Building was one of the city's earliest skyscrapers and is a wonderful example of the Chicago School of Architecture.
The Design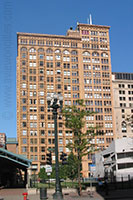 Fisher Building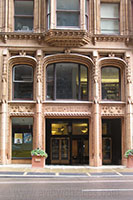 Entrance
Named for paper industry magnate Lucius Fisher, the first phase of the Fisher Building opened in 1896. The 18-story building measured about 230 feet tall (70 m.) and was the second-tallest building in the city at the time of its completion. It was designed by Charles Atwood of D.H. Burnham and Company.
Chicagoans were awed by this structure, whose steel frame took only twenty-five days to complete and weighed 12,000 tons. Extra piles under the foundation were used to support the unusually heavy weight.
The fact that the building was constructed almost entirely without masonry was a sign of a new era in building skyscrapers. The steel structure was also less expensive and allowed for thinner walls and larger windows.
The original building, as well as the 20-story addition designed by Peter J. Weber and opened in 1906, is known for its interesting terracotta tracery, which is French Gothic-inspired. Around the upper floors, you'll find figures such as giant eagles and mythical beasts. The terracotta ornamentation on the lower floors is much more whimsical, featuring fish, crabs, seashells and other sea creatures – a play on the name of the original owner.
Facade
The interior of the building was decorated with some of the most expensive materials of its day. The wainscoting is of Carrara marble, and beautiful mahogany wood was used in much of the trim. Many of the floors were of an ornate and colorful mosaic design.
The Fisher Building Today
The beautiful Fisher Building is now the Fisher Building City Apartments. The building still retains its early twentieth-century charm, and some of the condo entrances even boast the original mahogany trim and the opaque glass doors engraved with names of some of the Fisher Building's original business tenants.