The largest church building in the world, Chicago's Temple Church houses the oldest United Methodist congregation (a protestant church) in the city.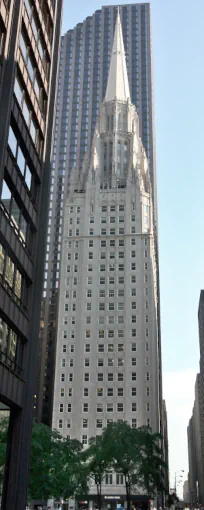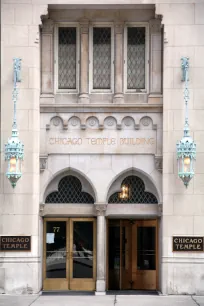 History
Formed in 1831, the First United Methodist Church is the oldest church congregation in Chicago. Early worship services were held in the homes of members and later a log cabin, built north of the Chicago River. It was that very cabin that was rolled across the river and placed at the corner of Washington and Clark Streets, where the congregation still worships today… but in a very different building!
Though many thought the church should move to the suburbs after World War I, the congregation chose to stay in the city on the "Methodist Corner". As church membership continued to grow, the leaders decided to erect a "big and tall" building to accommodate the growing congregation.
The Temple
They chose architectural firm Holabird & Roche and asked them to build a church that was "Gothic in structure, with a churchly tower, a radiant cross at its pinnacle."
Construction on the 568-foot-tall temple (173 m) was completed in 1923 and, until 1930, the First United Methodist Church or "City Temple" was the tallest building in the city. The ground floor of the building holds a two-story sanctuary which seats approximately 1,200 worshipers. A smaller worship space, the Dixon Chapel, is situated on the second floor.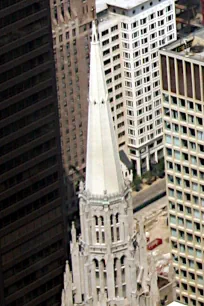 An ornate wood carving hangs above the main altar, depicting Jesus weeping over Jerusalem. The stained-glass windows are also of note – portraying the events of the Old and New Testament and paying homage to downtown Chicago and the temple itself, as well as other Chicago institutions aided by the congregation.
In 1952, a gift from the Walgreen Family (of drug store fame) resulted in the construction of another chapel, situated at 400 feet (122 meter), just below the steeple. This small chapel is often used for intimate weddings or other ceremonies. The altar in this chapel is complementary to the main altar, instead depicting Jesus weeping over Chicago.
While most of the building is used as office space, the senior pastor of the church does indeed reside in an apartment in the high-rise, set aside as a parsonage.