Often called "a study in geometric perfection", Chicago's Federal Center houses many of the city's important government agencies.
History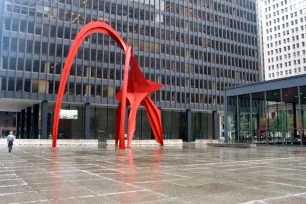 In 1960, the U.S. General Services Administration chose to construct a new office complex in Chicago's Loop District that would house thirty different agencies that were now scattered throughout the Windy City. They chose four different architectural firms to work on the project. They included the famous architect Mies van der Rohe, who was known for his modernist designs and designated chief designer, as well as Schmidt, Garden and Erickson; C. F. Murphy Associates; and A. Epstein and Sons.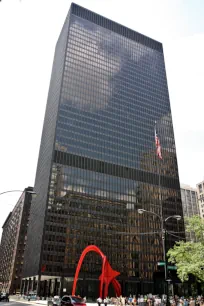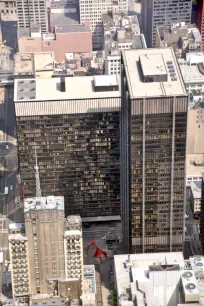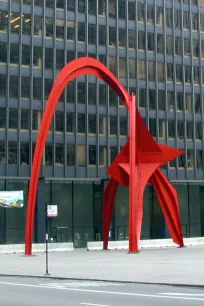 Though a simple design of two identical towers was originally proposed, it was decided that the site would consist of not only the two large towers for the Treasury and Defense Departments and the Justice Department and Federal Courts but, for logistical reasons, a separate Post Office building was proposed.
The courthouse portion opened first in 1964. Following the demolition of the old courthouse in 1966, construction began on the other buildings. The new post office opened in 1973 and the federal building in 1974. In 1969, the courthouse was named for former Illinois senator Everett Dirksen, and the Federal Building was renamed in 1975 in honor of John C. Kluczynski, U.S. Representative from Illinois from 1951 until 1975, when he passed away while serving in office.
Architecture
The minimalist glass-and-steel design of the Chicago Federal Center is really quite simple, but very striking.
The entire center occupies two city blocks. The Kluczynski Federal Building is 42 stories tall and boasts a total of 1.2 million square feet/111,000 square meters of office space. It's 562 ft./ 171 m. tall (above ground) and has three basements below grade. The Dirksen Building is 30 stories tall, with 1.4 million square feet or 130,000 square meters of office space, and sits perpendicular to the Kluczynski Building. Fifteen two-story courtrooms are situated in the top 10 floors of the courthouse building, according to original design, but more were added in the 1990s. The post office building is just one story high.
According to the U.S. General Services Administration, "the exterior curtain walls are defined by projecting steel I-beam mullions covered with flat-black graphite paint. The balance of the curtain walls are of bronze-tinted glass panes, framed in shiny aluminum, and separated by steel spandrels, also covered with flat-black graphite paint".
Outside the Federal Center, you'll find a wonderful sculpture by Alexander Calder entitled "The Flamingo". The 53-foot-tall (16 m), bright red flowing sculpture is in marked contrast to the plain building behind it.