Váci utca is a popular shopping street in Budapest. The street starts from Vörösmarty Square, where it is pedestrianized and leads to the Great Market Hall near Fővám tér.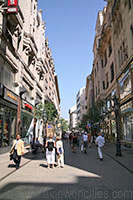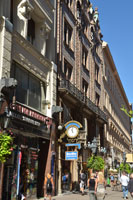 Váci utca
The northern, pedestrianized section is the most interesting, with plenty of shops and even some sights.
History
The street known as Váci was formed in the eighteenth century, though most of the often grand buildings along the street date from the nineteenth and early twentieth centuries.
The avenue has long been a place where the rich and famous of Budapest enjoyed spending their money though, at first, it was a shopping area accessible to most. However, as it became fashionable in the early decades of the twentieth century for the well-to-do to enjoy an early evening stroll down Vaci Street, the stores here became more and more exclusive.
The Street Today
While many of the shops are fashion boutiques, lately, as Budapest's tourism industry has grown, vacationers will find a fair number of souvenir shops located on Vaci Street and the small streets that dissect it. So, this is an ideal place to pick up a tee-shirt for the grandchildren or an 'I Love Budapest' mug for your co-worker.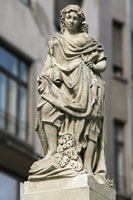 The fisher girl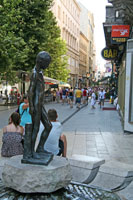 Little boy fountain
Many bars and cafes also line the street, offering a place to grab a bite to eat or an alcoholic beverage. Check out the alleys in the neighborhood for small "Mom and Pop-type" eateries that offer some of the local cuisine.
Sights
Some of the most interesting buildings facing Váci utca can be found near Vörösmarty Square. The Thonet house at no 11 is the most eye-catching, thanks to its colorful facade made of Zsolnay tiles. At no 9 is the Pest theater, housed in a large neoclassical building. This was the site of the Inn of the Seven Electors, where in 1823, the then twelve-year-old Franz Lizt performed.
Several fountains embellish the shopping street. The most famous is the Fisher Girl Fountain (Halászlány-kút), at Kristóf Square. It was created in 1862 by László Dunaiszky. A bit further stands another nineteenth-century fountain, with a bronze statue of the Greek god Hermes. A third fountain, created in 1976 by Ottó Szenczi, is situated near the south end of the pedestrianized zone. It is known as the Little boy fountain (Kisfiús díszkút) and features a central statue of a nude boy.