Budapest's huge Central Market Hall, also known as the Great Market Hall, is the city's largest indoor market. The beautiful historic structure attracts both local shoppers and tourists.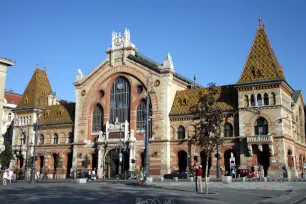 Just prior to the turn of the twentieth century, when the cities of Buda, Pest, and Óbuda merged to form one, city leaders recognized a need for more and better marketplaces for the burgeoning city. The decision was made to build covered markets similar to those in larger European cities, such as Paris.
Construction
The largest was dubbed The Great Market Hall and would be situated on the Pest end of the Freedom Bridge. A competition was held to determine the architect for this grand market. Samu Pecz, a Hungarian architect, was chosen and construction commenced in 1894.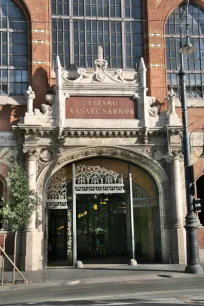 Unfortunately, just days before the 150-meter-long Neo-Gothic hall was due to open in 1896, a fire destroyed a sizeable portion of the roof, delaying opening until March of the following year. However, when it opened, it was declared among the finest and most modern covered markets on the continent.
The Market Hall
The cavernous structure was supported by slender steel columns, allowing for extensive sunlight to make its way into the market. The attractive outside facade was by Zsolnay, a Hungarian tile factory with an international reputation.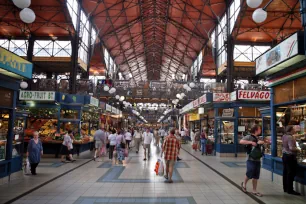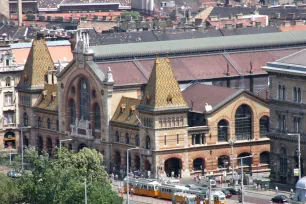 Sometimes referred to as "a symphony in iron", this ornate market had a canal that ran through the center, allowing goods to be delivered to the market's traders via barge. According to historic records, the early market was divided down the center by a thruway for wagons. Wholesalers were situated on the west and retailers on the east. There were also designated areas for meat traders, fish stalls, poultry stalls, and vegetable, fruit, cheese, and butter stands.
Budapest's Central Market Hall was extensively damaged during World War II and in their haste to rebuild, contractors took shortcuts and the newly reconstructed market lacked the splendor and strength of the original. It closed in 1991 after it was deemed hazardous and near collapse.
Rebuilding the Market
In the mid-1990s, the city government decided to restore this grand monument. Renovations were made to both the interior and exterior, and new Zsolnay tiles were crafted for the roof. The result was a clean, bright, colorful new market that serves the needs of the city's residents and its many visitors.
If you visit the Great Market Hall, you'll find three stories of stalls selling a variety of wares. On the busy ground level, there are lots of fruit and vegetable vendors. In the basement, there's a supermarket, a number of fishmongers, and vendors selling game meat. On the upper floor, beautiful Hungarian arts and crafts are the most common fare, but you'll find some fast food stands there as well.