Thanks to its prominent position atop the summit of Gellért Hill, the Liberty Monument is visible from all over Budapest. It consists of a central figure holding a palm leaf, flanked by statues representing evil and progress.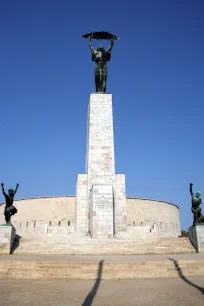 The monument was designed by Zsigmond Kisfaludi Strobl, a successful Hungarian sculptor and artist, and was unveiled in 1947.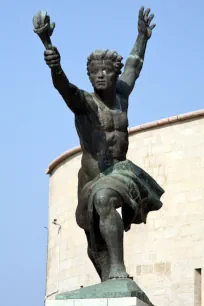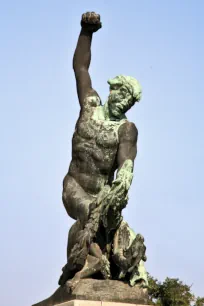 The central statue shows a female figure standing atop a tall pedestal and holding aloft a large palm leaf. The bronze statue rises to a height of fourteen meters (46 ft) and symbolizes peace. On either side are expressive statues of male figures, set on smaller pedestals. One, a triumphant figure holding a torch, represents progress. The other statue, an allegorical representation of evil, depicts a man fighting a mythical creature.
Liberation Monument
The monument was originally known as the Liberation Monument (Felszabadulási emlékmű) in honor of the Soviet soldiers who liberated Budapest in 1945, at the end of the Second World War.
According to legend, the monument was originally meant as a memorial to István Horthy, the son of the regent of Hungary who died on the eastern front where he served as a pilot. When the Russian general Kliment Voroshilov saw the unfinished monument in the workshop of Strobl, he decided to rededicate it in honor of the Soviet troops. The monument was remodeled so that instead of a propeller, the central figure now holds a palm aloft.
Liberty Monument
After the fall of Communism in 1989 most of the Soviet monuments and symbols in Budapest were removed. The Liberation Monument is one of the exceptions, although it was subtly renamed to «Liberty Monument». The statue of a soldier holding a Soviet flag that originally completed the composition was however banished to the Memento Park, a sculpture park with Communist-era statues situated on the outskirts of the city.