Trinity Square forms the heart of Buda's Castle District. At its center stands a large plague column, but the highlight at the square is the Matthias church, the most important church in Buda. Opposite the church stands the former town hall of Buda.
Trinity Column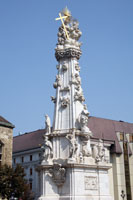 Trinity Column
The square is named after the Trinity column (Szentháromság oszlop), a large plague column that was built between 1710 and 1713 to a Baroque design by Philipp Ungleich.
The column was built to celebrate the end of the plague and citizens hoped that it would protect them from another epidemic. The sculpture at the top represents the Holy Trinity. It sits on a sturdy pillar decorated with statues of little angels and – below – large statues of saints. The column rests on a large pedestal adorned with bas-reliefs and the Hungarian crest.
Old Town Hall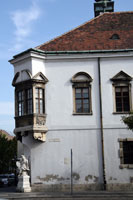 Old Town Hall
To the south Trinity Square is bordered by the Old Town Hall of Buda (Régi Budai Városháza), a white Baroque building that was constructed in the early eighteenth century according to plans by the Italian architect Venerio Ceresola.
The building was the town hall of Buda from 1710 until 1873 when the municipalities of Buda, Óbuda and Pest merged to form Budapest. A corner niche holds a statue of the Greek goddess Pallas Athene, created in 1785 by the Italian sculptor Carlo Adami. The goddess holds a spear and a shield that bears the coat of arms of Buda.
Matthias Church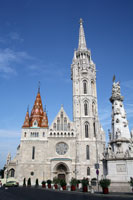 Matthias Church
The most conspicuous building at Trinity Square is the Church of Our Lady, better known as Matthias Church (Mátyás-templom). The church was originally built in the thirteenth century but its current countenance dates back to the late nineteenth century, when architect Frigyes Schulek rebuilt the church in a neo-Gothic style.
The church, long a coronation church, is one of Hungary's most important. The interior is richly decorated and painted with a pattern found on remains of the original medieval church. One of the highlights inside is the sarcophagus of king Béla III – during whose reign the church was originally built – and his wife Agnes of Chatillon. Visitors can also see a replica of the coronation regalia; the originals are on display at the Parliament House.
Hungarian Culture Foundation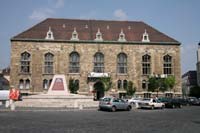 Hungarian Culture Foundation
On the north side of the square stands the House of the Hungarian Culture Foundation. The building looks medieval but in fact it was only built in the early twentieth century in a neo-Gothic style. The building has a beautiful interior and its large rooms are used to host cultural events, exhibitions, performances, receptions and conferences.