Párisi udvar is a magnificent shopping arcade in Budapest. It was built in the early twentieth century in an eclectic style and boasts a grandiose glass roof and plenty of sculptural decorations.
Párisi Udvar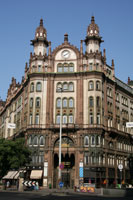 Brudern House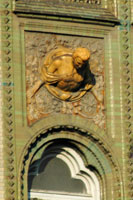 Detail of the exterior
The arcade occupies the first two levels of the Brudern House, an attractive seven-story building accentuated by two small ornate towers.
History
The First Arcade
Párisi udvar's main entrance lies at a central location along Ferenciek tere, one of Budapest's oldest squares. In 1817, at a time when the area was one of the busiest in the city, József Brudern decided to build a large store here. The building, known as Brudern-has (Brudern House), was designed by the Hungarian architect Mihály Pollack. Inside was a shopping arcade that was modeled after the Passage des Panoramas, a glass-covered passage in Paris. This was probably the reason why the house was also known as Párisi-haz (Paris House).
The New Brudern House
In 1907 the Belváros Savings Bank acquired the property and organized a competition for the construction of its new, prestigious headquarters. They received forty-three submissions and a design by Flóris Korb and Kálmán Griegl was chosen as the winner. The bank's board of directors however decided to select a different architect, German-born Henrik Schmahl.
Construction started in 1909 and the building was completed in 1913, one year after Schmahl's death. The new building, also called Brudern House, was mixed-use, with a sumptuous shopping arcade on the two lower levels and room for offices on the upper levels. The arcade was named Párisi udvar (Parisian Court) as a reference to the original arcade. Today it is often written as Párizsi udvar (Párisi is the old spelling).
Architecture
Exterior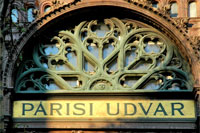 Tracery above the entrance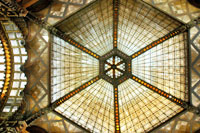 Glass dome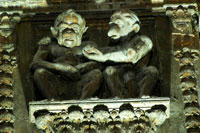 Sculpture
Henrik Schmal created an unusual building in a mixture of different architectural styles, including Venetian Gothic and Renaissance, decorated with Art Nouveau and Oriental elements. The palatial exterior, clad with colorful Majolica tiles, is decorated with numerous ornaments and motifs. Sparkling white reliefs of figures set in neo-Gothic niches adorn the rooftop, while fifty statues protrude from the third floor. The two main towers, which reach a height of forty meters, are richly decorated with neo-Gothic sculptures and even grotesques.
The Parisian Court
The Parisian Court inside is even more impressive. The arcade, two levels high, has a vaulted roof made of colored glass and a striking hexagonal glass dome, designed by Miksa Róth. The arcade is decorated with cast-iron and sculpted wooden ornaments. The floors have beautiful mosaic tiles. There are balconies, windows with bar tracery, pediments and sculptures. You can also see reliefs of bees, symbolizing thrift, a reference to the bank that commissioned the construction. Henrik Schmahl sure wasn't in a thrifty mood when he created this masterpiece.