The Millennium Monument at Hősök tere (Heroes' Square) is one of the most photographed sights in Budapest. The monument was created for the Hungarian millennium festivities that were held in 1896.
Millennium Celebrations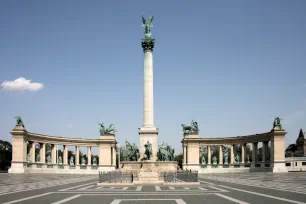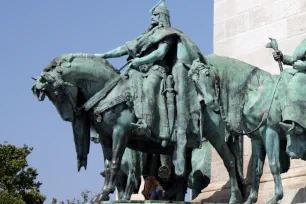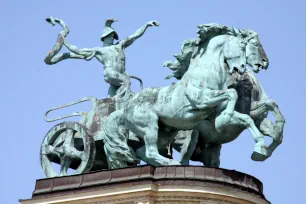 The idea for the Millennium Monument, sometimes referred to as Millenary Monument, was conceived in 1895 when the Hungarian government envisioned a national memorial for the country's heroes. The monument was one of the main attractions planned for the celebration of the 1000th anniversary of the Magyar conquest in 895.
The monument was inaugurated during the festivities that were eventually held one year late, in 1896. It was far from complete though, and in fact construction would drag on until 1929. The monument was designed by Albert Schickedanz, an Austro-Hungarian architect. The sculptures were designed by György Zala and sculpted by several different Hungarian sculptors, including Zala himself.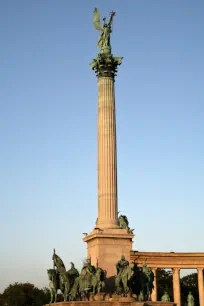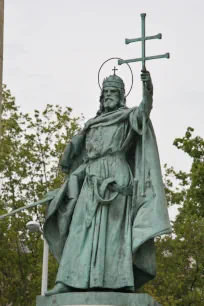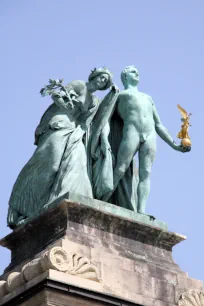 Millennium Column
The centerpiece of the Millennium Monument is the triumphal column that rises to a height of thirty-six meters (118 ft) above Heroes' Square. At the top of the column stands a statue of archangel Gabriel, holding a crown in his right hand. According to legend, the archangel appeared to St. Stephen in a dream and offered him the crown of Hungary.
At the base, the column is surrounded by seven equestrian statues of ferocious looking warriors. The statues depict the Magyar chieftains who, led by Prince Árpád, settled their people in the area now known as Hungary.
Colonnade
Two majestic quadrant colonnades serve as a backdrop for the Millennium Column. Between the colonnade's Corinthian columns stand statues of fourteen of the most prominent figures in Hungary's history, starting with King Stephen I on the left and ending with Lajos Kossuth on the right. Below each statue is a relief that depicts a historic scene related to the respective figure.
Atop the colonnades are allegorical sculptures. The biga (two-horse chariot) on the left colonnade shows a male figure holding a snake, symbol of war; the sculpture group to the left shows two figures who represent Wealth and Labor. On the right colonnade stands another biga with the figure of Peace; at the other end is a sculpture group with two figures representing Knowledge and Glory.
Monument of National Heroes
In front of the column is the Monument of National Heroes, a cenotaph that is also referred to as the Tomb of the Unknown Soldiers. The cenotaph – a memorial stone – is a tribute to Hungary's nameless heroes of war.