Boston's First Church of Christ, Scientist is the administrative headquarters for the worldwide Christian Science Church, a religious organization founded by Mary Baker Eddy in Boston, in 1879.
Architecture
The Christian Science Church that sits on Boston's Back Bay was originally built in 1894. The church was a rather dull gray and fairly modest, attracting little attention. However, a wonderful domed addition in 1906 immediately made the church noticeable.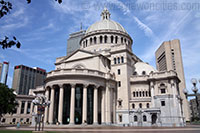 Christian Science Mother Church
The original building, Romanesque in design, was made from New Hampshire granite. The second building, added because of the movement's rapid growth, is Renaissance with a Byzantine influence. It increased seating from 1,000 to 3,000.
The interior of the church is stunning, with beautiful stained-glass windows featuring hand-painted religious figures that make bible stories come alive. Also inside is one of the largest pipe organs in the world, built by the Aeolian-Skinner Company of Boston and containing eight divisions and a total of 13,290 pipes.
The building beside the church, which now houses the Mary Baker Eddy Library, was built between 1932 and 1934 and stands eleven stories tall. Originally built as the Christian Science Publishing House, the building is Neoclassical in style and was designed by Chester Lindsay Churchill. It was restored between 1998 and 2002.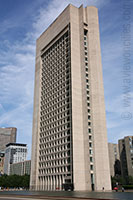 Administration Building
The Plaza
In the 1960s, the 14-acre (567 are) Christian Science Plaza was created and would serve to surround the Christian Science Mother Church.
Designed by architect Araldo A. Cossutta, Architect-in-Charge for I. M. Pei & Partners and Araldo Cossutta Associated Architects, this new addition was completed in the 1970s and included a 28-story administration building, a Sunday School building, a colonnade with solid sunshade columns, a spraying fountain, and an immense 98 x 686-foot (30 x 209 m.) reflecting pool. The ground is paved brick and granite, and the stone benches add to the orderly look of the plaza.
The Mapparium
Located in the Mary Baker Eddy Library building, the amazing Mapparium – a three-story stained-glass globe created in 1935 – is a popular local attraction. Visitors can traverse this immense structure via a 30-foot (9 m.) glass bridge that literally puts them in the middle of the world. Unfortunately, it is not allowed to take photos inside the globe.
The map has never been updated, so visitors get to experience the world of 1935 rather than that of present times. Half the fun of visiting is seeing how the world has changed in the last seventy years.
When the library opened in 2002, a multimedia show was added to enhance the Mapparium experience.