Boston's South Station, a monumental railway station built at the end of the nineteenth century, is not only a transportation hub but also a fun place to shop and grab a bite to eat.
The Early Years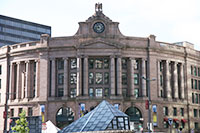 South Station
The idea for building South Station emerged in the last decade of the nineteenth century, when local officials decided it was no longer convenient for each rail company to have its own depot. Thus, the Boston Terminal Company was formed and the designs for the new station were created. Officials chose a 35-acre (14 ha.) plot of land in the southern part of the city, thus the name of the station. The grand railway station opened in 1899.
Visitors entered the building through one of three archways lined with highly-polished Stony Creek granite walls. A total of 27 ticket booths awaited customers before they stepped into the grand Waiting Room, which accommodated 1,500 passengers. The floor was of a marble mosaic pattern and the walls were fashioned from granite, enameled brick and plaster, engraved with the names of each Massachusetts county. Large arched windows made it a bright and airy place to wait for the trains, and at night, some 1,200 incandescent lights provided a sparkling interior.
The Decline and Restoration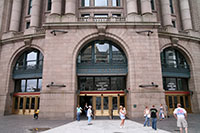 Main entrance
Business remained brisk at South Station until after World War II. By the early 1960s, rail travel had declined rapidly due to the increasing popularity of air travel, and South Station began to deteriorate. Demolition began in the 1970s; at least six tracks were removed and sections of the U-shaped edifice were closed off.
However, a concerned group of citizens soon stepped in and were able to get South Station listed on the National Register of Historic Places. That halted the demolition. In 1978, the Massachusetts Bay Transportation Authority purchased the property and rehabilitation began. Improvements included the rebuilding of the headhouse with a spacious concourse, reconstruction of eleven station tracks with high level platforms, and the construction of a new bus terminal.
The Building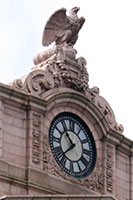 Clock and Eagle Statue
The monumental railway station was designed by the architectural firm of Shepley, Rutan and Coolidge. At the time of its opening in 1899, the South Station was one of the grandest railway stations in the country.
Its impressive, curved front facade has a Neoclassical design with large Ionic columns finished off with balustrades. At the center, a pediment rests on the three stories high columns. The station's clock is incorporated in the building's crown, which is topped by a statue of an eagle. Inside a large concourse, connected to the subway on the lower floor, is home to about a dozen of retail stores and a number of locations where travelers can grab a quick bite to eat.