The Botanical Garden of Barcelona was created in the 1990s at the Montjuïc Hill. The fourteen hectare (35 acres) large garden is divided into different zones with plants from areas with a Mediterranean climate.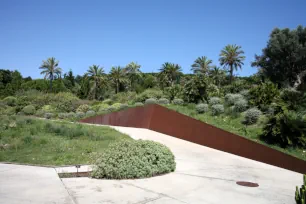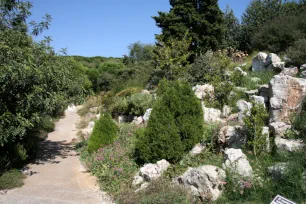 There are actually two botanical gardens on the Montjuïc. Besides the Jardí Botànic de Barcelona, there is also a smaller garden known as the Jardí Botànic Històric (Historic Botanical Garden), which was established in 1930 right behind the Palau Nacional at the site of a former quarry.
Nou Jardí Botànic
After construction of the facilities for the 1992 Olympics caused damage to the Historic Botanical Garden – temporarily forcing its closure – a proposal was made for the creation of a new, larger botanical garden on the Montjuïc Hill.
This garden, also known as the Nou Jardí Botànic (New Botanical Garden) opened in 1999 after eight years of construction.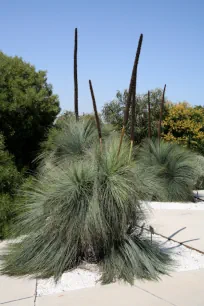 The Garden
The Botanical Garden is located behind the Olympic Stadium, on a sloping terrain, formerly used as a landfill. Thanks to its elevated location, at a height of up to 140 meters (459 ft), you have beautiful views from the garden over the Olympic Site and large parts of Barcelona.
Wide, cemented paths make the garden easy to navigate. The about two thousand different species of plants are grouped into geographical areas – called Homoclimatic zones, all of which have a Mediterranean climate: South Africa, Australia, Chile, California, North Africa and the Mediterranean Basin. Despite the fact that all these areas share a similar climate, they have a very diverse flora.
Some of the interesting exotic plants at the Botanical Garden include the Canary Islands Dragon Tree, Californian Yuccas, the Xanthorrhoea – an Australian grass tree with very narrow leaves, white Wandoo trees and the 'twins', a couple of Olive Trees.