The Monestir de Pedralbes is a former monastery built in the early 14th century. Today the complex is open to the public, and it sheds a light on what monastic life must have been like during the Middle Ages.
History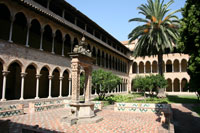 Cloister
In 1326 Elisenda de Montcada, fourth and last spouse of king Jaime II, ordered the construction of a monastery for the Poor Clares, a female religious order. The monastery was built in a remarkably short time, and the Clares were able to move in the following year.
For centuries, the monastery was inaccessible to outsiders, but in 1972 the City Council of Barcelona signed an agreement with the nuns to hand the monastery over to the city, so it could be used as a museum. In return, the city would build a new convent for the nuns. After many years of restoration work, the monastery opened to the public in 1983.
Visiting the Monastery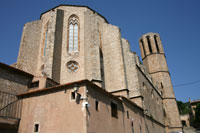 The church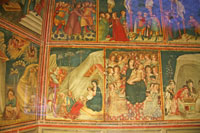 Capella de Sant Miquel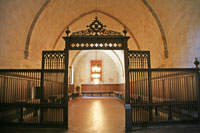 Refectory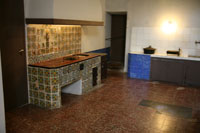 Kitchen
The complex is one of the best preserved examples of Gothic architecture in Barcelona. Besides the architecture, you can also see some of the interior and there are even household items, giving visitors an idea of life behind the walls of a monastery.
The church, dedicated to Saint Mary, is entered from outside the monastery. It is a typical Catalan Gothic church, with a single wide nave and a sober interior.
After entering the monastery proper, visitors can start a tour around the magnificent cloister. In its large central courtyard, planted with cypresses and even a palm tree, stand a Baroque well surrounded by ceramic tiled benches and a medieval fountain.
Following the tour around the cloister counter-clockwise, the first room you'll see is the Capella de Sant Miquel (Chapel of St. Michael), one of the highlights in the monastery. The room is decorated with frescoes painted by Ferrer Bassa in 1346.
Nearby is the tomb of Elisenda, which intriguingly shows the queen dressed in royal garb on the side facing the church and dressed in a habit on the side towards the cloister. Many of the rooms of the former monastery are open to visitors, including the vaulted refectory, the kitchen – decorated with colorful tiles, the infirmary and a series of private cells. Many of the household items used by the nuns are still present, including vases and kitchenware.
The Dormidor (dormitory) houses a collection of artwork from the monastery. On display are a number of historic objects, including furniture and religious items such as an enormous bible. The last room before the exit is the chapter house, which has a stained-glass window created in 1420.