The Mercat de La Boqueria (Boqueria Market) is the most popular of the many food markets in Barcelona. The market hall at the Rambla de Sant Josep often attracts large crowds, both locals and tourists.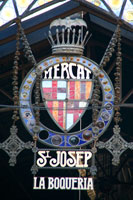 La Boqueria Sign
The name of the market presumably stems from the word boc (goat), since goat meat was sold here as early as in the thirteenth century.
History
The market hall's official name is Mercat de Sant Josep (Saint Joseph Market), a reference to the Sant Josep convent that was built at this site in 1593 for the Carmelites, a religious order.
A fire destroyed the convent in 1835 and Catalan architect Josep Mas i Vila converted the site into a market square. Until then market vendors sold their wares at an open air market at the Rambla de Sant Josep where they often obstructed traffic. The new market square, named Plaça del Treball, was to be the most magnificent square in Barcelona, with fountains, gardens and arcades supported by Ionic columns. Those grand plans were never fully realized, however some of the columns and porches built as part of the plan can still be seen today.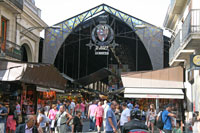 Entrance at the Rambla
In 1914 the market was covered with the current iron frame hall in Modernista style. The wrought iron entrance near the Rambla is especially noteworthy, decorated with colorful glass panes.
The Market
The market hall is one of the most lively in all of Spain, with over two hundred stalls selling any kind of fresh food from fish and meat to vegetables and fruit. Some stalls have exotic food – you can taste beetles or worms here – while others are catered to tourists with take-away refreshments and snacks.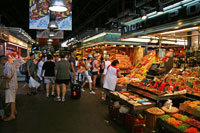 Inside the market hall
A more authentic experience provide the tapas bars, where you can eat typical Spanish and Catalan snacks while standing up.
The market attracts many people, both locals buying their daily groceries and tourists looking for something healthy to eat. There's almost always a bustling crowd, but if you want to avoid the largest crowds, it's best to visit the market early in the day.