Plaça Reial is one of the most beautiful squares in Barcelona. It is located in the old town, near the Rambla and looks unlike any other square in Barcelona. The square features a fountain and two lampposts created by Gaudí.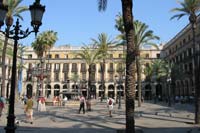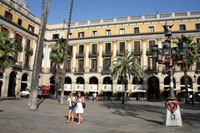 Plaça Reial
Origin
The square was developed in the mid-nineteenth century at the site of an old Capuchin monastery. The city of Barcelona acquired the property in 1822. When the monastery was ravaged by fire in 1835 plans were forged to build a new theater here. However, in 1847, when the Liceu Theater opened at the Rambla, the city council changed its mind and decided to develop a new square instead. A competition was organized to design the square and Catalan architect Francesc Daniel Molina i Casamajó was awarded with the project.
Design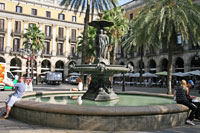 Fountain of the Three Graces
The square was laid out between 1849 and 1859 after Molina's neoclassical plans, which called for a symmetrical design. Large buildings with elegant facades in neoclassical style surround the rectangular square on all four sides. Arcades on the ground floor give the Plaça Reial an Italian flair and palm trees, seemingly planted at random, give the square a less formal feel.
The large fountain in the middle is called the 'Font de les Tres Gràcies' (Fountain of the Three Graces). It was created in 1878 by Antoni Rovira i Trias. Statues of the Three Graces – goddesses of charm, beauty and fertility – support a small basin.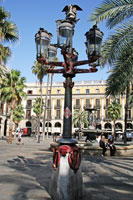 One of Gaudí's
lampposts
The two lampposts with six brackets near the fountain are early works of Antoni Gaudí. The famous Catalan architect designed them in 1879, shortly after graduating as an architect, but his unique style is already visible. The lampposts are decorated with iron snakes and a winged hat, symbols of Mercury, the god of commerce.
The Square Today
The Plaça Reial has been pedestrianized since a renovation in the early 1980s and it is now one of the liveliest and most colorful squares in Barcelona. It often attracts a weird mix of people, from bohemian and eccentric locals to tourists who rest on the edge of the fountain or enjoy a coffee at one of the pavement cafés in the arcades.