Plaça del Rei (King's Square), located in the Gothic Quarter of Barcelona, is bordered by a number of historic buildings that were once part of the Palau Reial Major, the residence of the Counts of Barcelona.
A Place in History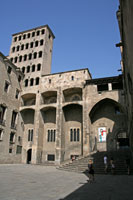 Plaça del Rei
Plaça del Rei is known for its link to Christopher Columbus. It is widely believed that it was on the steps fanning out from the corner of the square that King Ferdinand and Queen Isabella greeted Columbus when he arrived home from his first voyage to the New World.
Some dispute the story, noting that the royal couple was probably at their summer residence when the explorer returned, but most locals stick to this story when chatting with visitors as to the area's historic significance.
Historic Architecture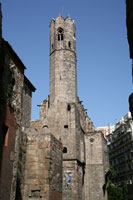 Bell Tower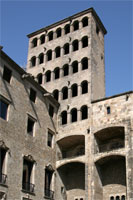 Torre Mirador
del Rei Martí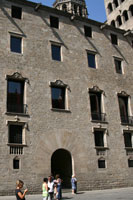 Palau del Lloctinent
Many visitors, however, head to this interesting area of Barcelona to enjoy the unique architecture of the Palau Reial Major that surround the plaza. The palace was home to the counts of Barcelona and kings of Aragon who reigned during the Middle Ages.
Originally built as a Romanesque fortress leaning against the Roman Walls, the palace was later expanded with Gothic additions. The palace's main attraction is the Salo del Tinell, a magnificent grand hall that was added in the mid-fourteenth century and is now used for temporary exhibitions of the Museu d'Història de la Ciutat, the city history museum.
To the left of the Tinell Hall is the King Martin's Watchtower (Torre Mirador del Rei Martí). Built in the fifteenth century as a lookout tower, it looms over visitors who are busily exploring the Plaça del Rei. To the right of the Tinell Hall is the fourteenth-century Royal Chapel of St. Agatha which boasts a unique octagonal bell tower shaped like a crown and is home to one of the finest examples of Catalan Gothic art, the fifteenth-century painting by Jaume Huguet entitled Epiphany. Don't forget to take a look at the dazzling polychrome ceiling.
Opposite the chapel is the Palau del Lloctinent, a sixteenth-century Gothic structure that was home to the viceroy or lieutenant of the Catalan Parliament. Its beautiful courtyard is publicly accessible.
City History Museum
Lastly, visitors to the Plaça del Rei and the Gothic Quarter should make a stop at the Museu d'Història de la Ciutat (City History Museum), where visitors can learn about two thousand years of Barcelona history. Incidentally, the entrance to the museum – near the southeast side of the square – is the Palau Clariana-Padellàs, moved to this spot stone by stone from Carrer del Mercaders in 1931. During the excavation at this site the remains of a complex of ruins of Barcino – Roman Barcelona – were uncovered. The ruins are now part of the museum, which also gives access to the St. Agatha Chapel and the Tinell Hall.