The Christopher Columbus Monument was built in 1888 in honor of the renowned explorer and discoverer of America. It consists of a statue of Columbus standing on a tall column.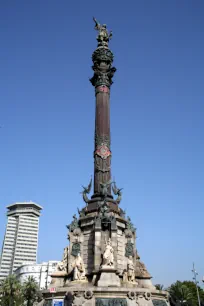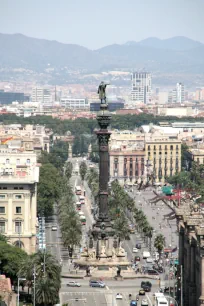 The monumental cast-iron column stands in the middle of the Plaça de la Porta de Pau (Square of the Gate of Peace). It is set on a stone pedestal, sumptuously decorated with statues. The statue of Columbus atop the sixty-meter-tall column (197 ft.) overlooks the sea from its elevated position and is visible from afar.
The monument, locally known as the Monument a Colom, was designed by the Catalan architect Gaietà Buigas i Monravà for the Universal exhibition of 1888. Construction of the monument started in 1882, but due to financial problems it was only completed just in time for the exhibition.
Christopher Columbus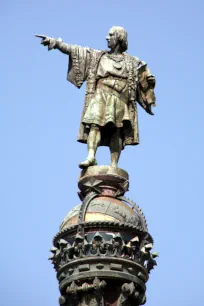 The monument is placed at the site where Christopher Columbus arrived in 1493 after his discovery of America the year before. Columbus was presumably born in Genoa, Italy. He first moved to Portugal and later settled in Spain. Nevertheless, in the nineteenth century Columbus was considered a Catalan – some historians still claimed he was born in Catalonia, hence the monument for the famous explorer in Barcelona.
The Statue
The more than seven-meter-tall statue, created by Rafael Atche, shows a standing Columbus pointing towards the sea. Oddly enough, he is not pointing in the direction of the new world he discovered. The pedestal is beautifully adorned with a number of allegorical figures.
Platform
The column and pedestal are hollow; you can access the monument, an elevator brings you to a platform from where you have an excellent view over the Rambla and Port Vell.