The Peix Daurat (Golden Fish) is a unique sculpture that was built in 1992 at Barcelona's waterfront. The large steel structure is indicative of the themes of many other Frank O. Gehry works.
The Sculpture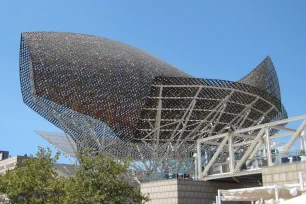 Barcelona's fish sculpture, known as Peix in Catalan, is one of many pieces of modern public art found in and around the city. The piece sits in the Port Olímpic at the base of a large skyscraper, the Hotel Arts, one of the tallest buildings in the city.
Renowned architect Frank O. Gehry was commissioned to build the piece for the 1992 Summer Olympics, which were held in Barcelona and brought the city to the attention of the world. It faces the sea and measures thirty-five by fifty-four meters (about 114 by 177 feet). It is made of stone, steel, and glass. Its copper-colored shiny metal plates sparkle in the sunshine and make the sculpture a real eye-catcher. The sculpture can be seen from several of Barcelona's beaches.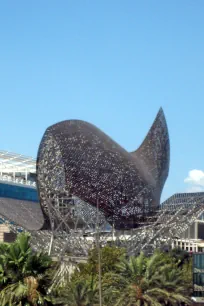 Frank Gehry
Gehry, a Canadian architect based in Los Angeles, is best known for his many notable structures throughout the world including the Stata Center in Cambridge near Boston, the Dancing House in Prague, the Pritzker Pavilion at the Millennium Park in Chicago, the Guggenheim Museum in Bilbao, the stunning New York By Gehry in New York City and many more eye-catching structures. Like this sculpture, many of Gehry's works have been influenced by the basic form of the fish. He's also designed a line of jewelry and household items using the same fish motif.