The Palau de la Música Catalana is a concert hall built in 1908 after an exuberant design by the Catalan Modernista architect Lluís Domènech i Montaner. It has a spectacular interior decorated with stained glass, statues and mosaics.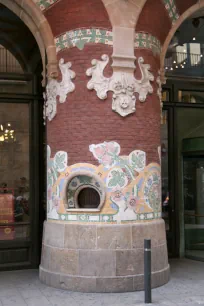 Construction
The concert hall was created for the Orfeó Català, a choir founded in 1891 with the aim of promoting and preserving Catalan music. Construction started in 1905 at the site of a former monastery.
Plans for the new concert hall were drawn up by Lluís Domènech i Montaner, one of the most important architects of the Modernisme movement, the local version of Art Nouveau.
Exterior
The building's red brick façade is expressively decorated with mosaics and statues, typical of Modernisme architecture. A large stone sculpture, created by Miquel Blay, shows an allegorical representation of popular Catalan music.
Three massive pillars are adorned with colorful mosaics. They support a balcony with even more exuberant decoration: a cacophony of pillars, ornaments, busts of famous musicians, arches and balustrades, culminating in a large mosaic showing singers of the Orfeó Català and topped off with a large dome decorated with ceramic tiles.
Interior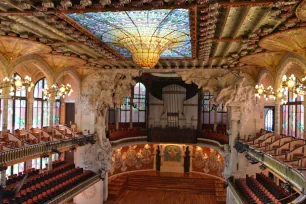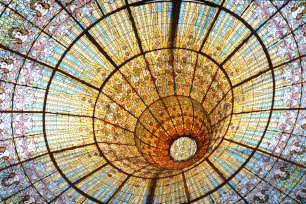 The interior is even more spectacular. The concert hall's auditorium in particular is quite extraordinary. Thanks to the use of modern construction techniques, Domènech was able to create a frame structure with colorful glass walls and a magnificent bulbous stained-glass skylight. Some of the era's greatest Catalan architects decorated the interior abundantly with stained glass, mosaics, and sculptures.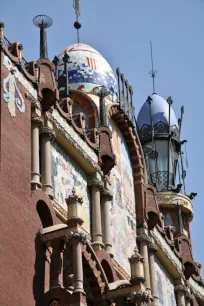 Recognition
As soon as it opened to the public, the Palau de la Música Catalana became a center of Catalan cultural life and a symbol of Catalan nationalism. And despite some contemporary critics who slammed the building for its over abundant use of decorative elements, the building's architecture was well received, and it was even voted the city council's building of the year in 1909.
In 1997 the building – together with Domènech's other masterpiece, the Hospital de Sant Pau – was declared a World Heritage Site by UNESCO.
Visiting Palau de la Música Catalana
One way to visit the Palau de la Música Catalana is by visiting one of the concerts. But despite the fact that the glass walls and skylight don't create an ideal acoustical environment, the concert hall regularly fills its about two thousand seats, so be sure to buy your tickets well ahead. Alternatively, there are popular guided tours of the concert hall. These tend to fill up quickly as well, so it might be a good idea to buy a ticket a couple of days ahead.