The Santa Maria del Pi is a Gothic church that was built in the early fourteenth century just outside the former Roman city walls. The church has one of the world's largest rose windows.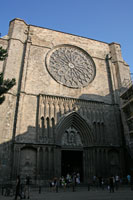 Santa Maria del Pi
One of several significant churches in the old town of Barcelona, the Santa Maria del Pi is a fine example of the expertise of the Catalan master builders, who were able to create naves that are wider than those found in other regions.
The Name
The church is named after a pine tree (Pi in Catalan) that stood in front of the church. Today there is still a pine tree on the Plaça del Pi (naturally a different one).
Construction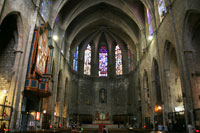 Interior
Construction of the church of Santa Maria del Pi started in 1322 at the site of an older tenth century church of the same name. Work on the fifty-four meter (177 ft) tall bell tower started much later, in 1379. By the end of the fourteenth century the nave was completed and in 1453 the church was consecrated. Construction continued in the sixteenth century, when the crypt was built.
The Church
Similar to many other Gothic churches in Catalonia, the exterior of the church of Santa Maria del Pi has little to no sculptural decoration. The lone statue on the tympanum of the main entrance at the Plaça del Pi, Mary with Child, is considered a highlight of fourteenth century sculpture. There is also little ornamentation found in the interior of the church. In 1936 left wing revolutionaries set fire to the Santa Maria del Pi and several other churches in Barcelona.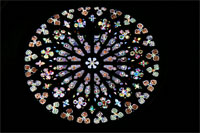 Rose window
The Santa Maria del Pi was renovated after the Civil War but many valuable works of art, some of which dated back to the fourteenth century, are lost forever. As a result the interior is very sparse. The side chapels and the colorful stained glass windows attract the most attention, in particular the enormous twelve-sided rose window that adorns the main facade.
The nave is almost seventeen meters wide (56 ft), and its ribbed vault is supported by large buttresses. Between the buttresses are a series of small chapels, most of which have little decoration as they were destroyed during the Civil War. But despite the absence of decoration, the church still overwhelms visitors thanks to its perfectly proportioned wide nave and the total absence of pillars.
Museum and Treasury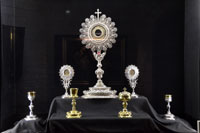 Treasury
In the church's crypt is a small museum with a treasury that is home to a collection of religious paintings and eucharistic objects such as chalices, monstrances and ciboria. The museum's most prized asset is a reliquary that is thought to hold a relic of Christ's crown of thorns. There's also an audio-visual installation that shows information about the history and characteristics of the church.