The Santa Maria del Mar – Church of St Mary of the Sea – was built in the fourteenth century, during the medieval heyday of Catalonia, when Barcelona was the capital of a Mediterranean empire.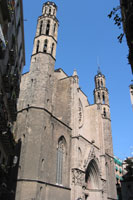 Santa Maria del Mar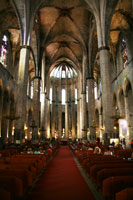 The nave
The church is considered the most impressive example of Catalan Gothic church architecture. It is located in the El Born district between the Plaça Santa Maria and the lively Passeig del Born, which leads to the Mercat del Born, a former market hall.
Construction
After the conquest of Sardinia in 1325, King Alfonso IV commissioned the construction of a church as an expression of gratitude. Construction started in 1329 at the site of a tenth-century parish church under the supervision of master builders Berenguer de Montagut and Ramon Despuig. Despite a brief interruption of work in 1340, the church was completed in just fifty-four years, a very short time for a medieval church of its size. The church was built at the center of a booming neighborhood, and many of the wealthy merchants living there helped funding the construction of the church.
The Church
The basilica has significant importance for Catalans, since it was built as a symbol of power of the crown of Aragon, of which Barcelona was the capital. Santa Eulalia, patron saint of Barcelona, is said to have been buried here before her body was moved to the Seu Cathedral.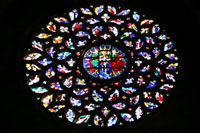 Rose Window
The church has a central nave flanked by two aisles. In contrast with the many Gothic churches found in Northern Europe, the nave of the Santa Maria del Mar is very wide, typical for Catalan Gothic architecture. The front facade of the church at the Plaça Santa Maria shows a large rose window and two slender octagonal towers. The rose window, which depicts the crowning of Mary, dates from the fifteenth century; the original window was destroyed by an earthquake in 1428.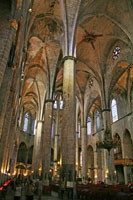 Columns and ceiling
The interior is sparsely decorated, since most of the monuments were lost during the Spanish Civil War, when a fire destroyed the central choir and the Baroque high altar. Despite the lack of ornamentation (or maybe thanks to) the church has a magnificent interior, spacious and harmonious, with a very wide nave – exactly twice as wide as the aisles – and no transept. The beautiful cross-vaulted ceiling is supported by a surprisingly small number of slender-looking octagonal columns.
The stained-glass windows in the church, which date back to the fifteenth to eighteenth centuries, all survived the Civil War. There are also a number of small chapels in the church, between the buttresses on the sides and in the apse.