The Antic Hospital de la Santa Creu is a former hospital complex built from the fifteenth to the eighteenth century in El Raval, a neighborhood in the Ciutat Vella, the historical heart of Barcelona.
History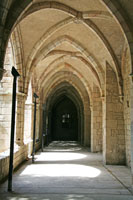 Gothic gallery
Construction of the hospital started in 1401 when it was decided to centralize the existing hospitals in the city.
The complex was designed by master builder Guillem d'Abriell and consisted of four two-storied wings built around a central patio. At the time the Hospital de la Santa Creu had the reputation as one of the best hospitals in Europe. The hospital complex was later, during the sixteenth and early seventeenth centuries, expanded with two more wings. Further modifications continued until the eighteenth century, when the inner courtyard was enlarged.
As was common during the Middle Ages, the hospital did not only treat ill people, it also treated people with mental disorders and it even took care of orphans. One of the hospital's most famous patients was Gaudí, who died here three days after he was hit by a tram in 1926.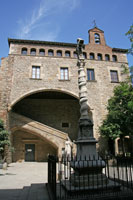 Patio
By the early twentieth century the hospital had become outdated and in 1929 it was replaced with a much larger complex, built by the Modernista architect Domènech i Montaner in the Eixample district.
The Hospital Today
The city acquired the complex and after a renovation it became home to a number of institutions, including the Institute of Catalan Studies and the Library of Catalonia, both of which are still housed here.
The oldest part of the former hospital is an interesting example of secular Gothic architecture in Barcelona. The interior boasts several large vaulted halls. Also of note is the cross vaulted Galeria del pati, which borders the inner garden, and the arched entrance to the library at the patio, built in the sixteenth century.
Jardins de Rubió i Lluc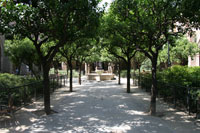 The garden
The inner courtyard of the hospital contains the Jardins de Rubió i Lluc, a small publicly accessible garden. The garden is a pleasant refuge, surrounded by beautiful centuries old architecture. Adding to the historic charm are a sculpted cross in the middle of the patio, an old well nearby and a fountain, which stands in the middle of a group of orange trees.