The Torre de Collserola is a communications tower designed by Norman Foster and built on the crest of a hill just north of Barcelona. The tower has a public observatory with panoramic views over the city.
The Tower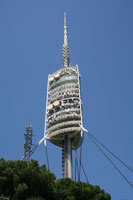 Torre de Collserola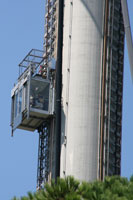 Elevator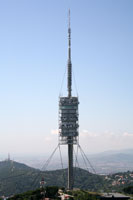 Torre de Collserola
The tower was built in 1991 as part of an infrastructure upgrade to prepare the city for the Olympic Games of 1992. It wasn't even the only communications tower built that year; the Torre de Montjuïc was built that same year near the Olympic Stadium.
The Torre de Collserola has a strikingly different design compared to its sleek counterpart on the Montjuïc Hill. The famous English architect Norman Foster designed a Hi-Tech looking tower with an unconventional silhouette. The tower consists of a two-story base covered with soil with a 205 meters long concrete shaft – 4.5 meters in diameter – and a 45 meters high lattice section topped with a 38 meters long mast that reaches a height of 288 meters (945 ft). The lattice section contains thirteen floors covered with broadcasting and reception equipment.
Observation deck
A glass elevator brings you from the bottom of the tower to the observation deck at the tenth floor in under two minutes. From there, at a height of 560 meters above sea level (1837 ft) you have a 360 degree view over the environs, including a panoramic view of Barcelona. Depending on the weather, you can see as far as seventy kilometers (44 miles).
Getting there
The tower is only a short walk from the Tibidabo Funicular. This funicular can be reached by taking the L7 train to the Av. Tibidabo station. From there you can take the historic blue tram, which departs at the Av. del Tibidabo and brings you to the start of the funicular.