A popular attraction at Barcelona's waterfront is the Aquarium, which boasts a large oceanarium with ferocious looking sharks that you can see up close from an eighty meter (262 ft) long underwater tunnel.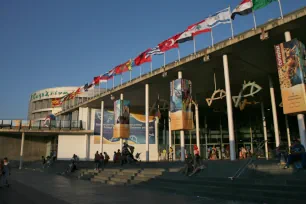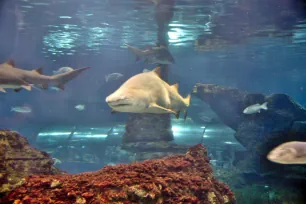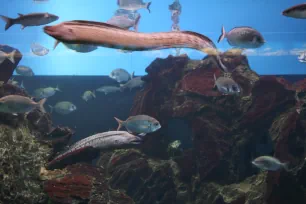 The Barcelona Aquarium opened in 1995 at Port Vell as Europe's largest aquarium with twenty bassins that show marine life in the Mediterranean and beyond. There are more than eight thousand fish in the tanks that contain about six million liters of salt water. The aquarium is divided into a number of thematic areas.
Mediterranean
The aquarium puts a large emphasis on the Mediterranean area, with ten tanks simulating the diverse habitats. The first exhibits in the Barcelona Aquarium show life near the shore. Here you find colorful morays, octopuses and flat fish.
As you progress, the tanks show sea life in the deeper parts of the sea. You'll encounter species that live in shallow water like dogfish, red star fish and sea horses, and species that live in the coral forests, up to forty-five meters below the surface. Here sea life becomes more colorful, with red precious coral and the John Dory fish, noted for the black spots on its sides.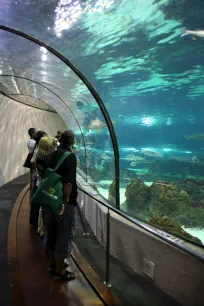 Tropical Waters
The aquarium shows more than just Mediterranean sea life; there are also a number of tanks that show the colorful tropical waters of the Red Sea, the Great Barrier Reef and even Hawaii.
Oceanarium
The star attraction of the Barcelona Aquarium is the Oceanarium, a round tank filled with 4.5 million liters of water. Here you can see some of the largest species that live in the Mediterranean, including sand tiger sharks, ocean sunfish and rays. A moving sidewalk runs slowly through an eighty meter long tunnel from where you can admire the creatures of the deep sea up close.
Planeta Aqua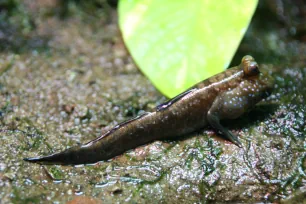 Many visitors go straight from the aquarium to the shop and the exit without realizing they skipped Planeta Aqua, an interesting exhibition on how creatures have adapted themselves to life in extreme conditions, such as arctic water, tropical water and the dark depths of the sea. Here you find penguins, an open water tank with rays, a mangrove with mudskippers, the carnivorous piranhas and water spitting archerfish.