The Royal Palace of Pedralbes served as the Barcelona residence of the royal family of Spain. Today, two museums are housed here: a ceramics museum and a museum of decorative arts.
The Palace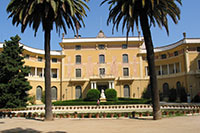 Palau Reial de Pedralbes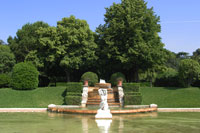 The Gardens
The history of the palace began in 1918 when count Eusebi Güell donated an estate just north of Barcelona to the Royal Family. After the existing house was remodeled as a palace, King Alfonso XIII moved in 1926.
Work on the palace continued, and it wasn't fully completed until three years later. After the Spanish king fled the country in 1931 it was used by dictator Franco as a presidential residence. Later, the building was handed over to the city of Barcelona, which decided to turn it into a museum.
The Italian Neoclassical design was created by the Catalan architect Eusebi Bona. During construction, another Catalan architect, Francesc Nebot, took over as the lead architect.
The Gardens
The gardens at the palace, which are highly acclaimed for their beauty, were designed in 1924 by Nicolau Rubió i Tuduri. Tuduri took the property's existing trees and arranged them in a geometric layout. Lined with bamboo benches and fountains created by Carles Buigas, the gardens feature palm trees, cypress, cedars, lime trees, fragrant eucalyptus, magnolias, acacias, and flowering plants.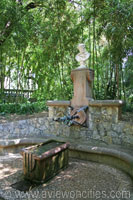 Hercules Fountain
The most interesting sight in the palace gardens is the Font d'Hércules, a fountain designed by Antoni Gaudí. The fountain was rediscovered in the 1980s and was once completely hidden by dense vegetation.
Museu de les Arts Decoratives
Since 1937 Palau Reial de Pedralbes serves as the Museu de les Arts Decoratives, a museum of decorative arts. The museum has a collection of Catalan glassware, porcelain, wrought iron, furniture and many utensils from the sixteenth to the twentieth centuries.
Museu de Ceramica
Palau Reial de Pedralbes is also home to the Museu de Ceramica, a ceramics museum. Founded in 1966 and housed in the palace since 1990, this museum owns an impressive permanent collection of Spanish ceramic art spanning several centuries, from medieval pieces to contemporary works.