The Güell Pavilions were built between 1884 and 1887 by Antoni Gaudí, best known as the architect of the Sagrada Família. The pavilions were built for a summer residence of the wealthy Catalan industrialist Eusebi Güell.
Finca Güell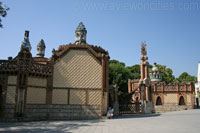 Güell Pavilions
Eusebi Güell inherited a large estate just north of the city of Barcelona, in an area known as Les Corts. The Güell family had their summer residence here, a seventeenth-century mansion that was remodeled in Caribbean style by the Catalan architect Joan Martorell i Montells. After Eusebi Güell's death his family left the mansion for the Spanish Royal family, who transformed it into a palace, the Palau Reial de Pedralbes.
The Pavilions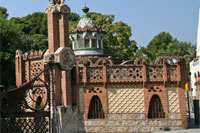 The former stables
In 1883 Eusebi Güell expanded the estate – locally known as Finca Güell – and commissioned Gaudí with the remodeling of the formal French garden and the construction of two entrance pavilions: a gatekeeper's house on one side of the entrance and stables on the other side.
The gatekeeper's house – the pavilion to the left of the entrance – has a central octagonal hall with two wings of equal length in an L-shape. The walls are made of tamped loam and covered with patterned concrete. Red clay bricks are used for support and form a nice contrast with the yellow concrete. The roof has large ventilation shafts decorated with ceramic shards; a precursor to the imaginative chimneys that Gaudí designed for the Casa Milà.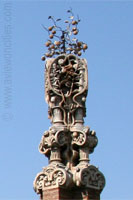 Tree with the
golden apples
Opposite the gatekeeper's house are the former stables, a large rectangular building with a vaulted hall and a cupola decorated with green and white ceramic shards. The building is now home to the library of the Real Cátedra Gaudí, a documentation center dedicated to the study of the works of Antoni Gaudí.
Dragon Gate
The most spectacular element of Finca Güell is the wrought-iron gate that links the two pavilions. The upper part of the gate is shaped like a dragon with bat wings. Gaudí created the dragon by using standard industrial products, which he bent and welded together.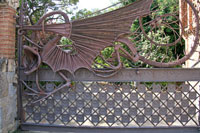 Dragon Gate
The gate is hinged on a tall pillar. The pillar symbolizes the tree of the golden apples.
Both the tree and the dragon are references to the labors of Hercules, the mythical founder of Barcelona. In fact, the whole garden behind the pavilions was laid out by Gaudí as the garden of the Hesperides, from where Hercules stole the golden apples after slaying the dragon Ladon.