Syntagma Square is the most important square in Athens; it is constantly crowded with locals and tourists alike. The square is bordered on the east side by the Hellenic Parliament Building.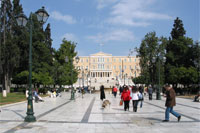 Syntagma Square
Syntagma Square is the hub of public transportation in the city; buses, trolleys, trams, and the metro all stop here. The square also boasts a central fountain, a number of statues and two grassy areas with lots of trees, perfect for relaxing in the shade.
History
The Parliament Building was originally the Royal Palace, and hence the square at the foot of the building was known as the Palace Square. In 1843 king Otto was forced to grant a constitution to the people of Greece after an uprising during that year and the square was renamed Syntagma Square (Constitution Square).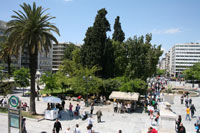 Nearly every major event in Greece has been celebrated or mourned here. When the country's Military Junta government was overthrown in 1974, it was at the square that the new leader of Greece gave his first speech. In 2010-2012, the square was the center of demonstrations against austerity measures that were implemented as a result of the country's debt crisis. Today, Syntagma Square continues to be home to political rallies and other demonstrations, but it's also a central gathering place for young and old in Athens.
Sights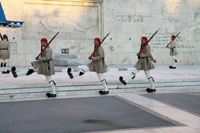 Evzones
The main attraction at Syntagma Square is the House of Parliament, originally built in 1842 as the Royal Palace. Evzones, members of the presidential guard dressed in traditional uniforms, stand vigil at the Tomb of the unknown soldier in front of the parliament. The hourly Changing of the Guard ceremony always attracts a crowd of tourists.
Most of the other buildings surrounding Syntagma Square are unimaginative and of little architectural interest, except for the historic hotels 'George II' and 'Grande Bretagne'.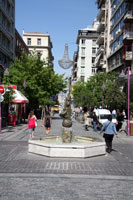 Ermou Street
The latter was originally constructed in 1842 after a design by Theophile Hansen as a grand neoclassical mansion. In 1872, it was converted into a hotel. The building was demolished and rebuilt in the mid-twentieth century, but unfortunately without any of the decoration and grandeur of its predecessor.
Syntagma Square is also the starting point of Ermou Street, the most important shopping street in Athens. The pedestrianized street leads all the way west towards Monastiraki Square.