The Greek parliament is housed in an imposing building situated at the east side of Syntagma Square. In front of the building is the Tomb of the Unknown Soldier, which is guarded by the Evzones, an elite regiment in traditional dress.
The Parliament Building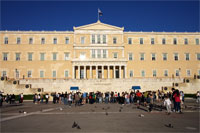 House of Parliament
The Greek Parliament Building was erected between 1836 and 1842 as the royal palace for king Otto I, the first king of modern Greece. The architect was the German Friedrich von Gärtner, who designed a monumental building with neoclassical facade.
After a fire damaged the palace in 1909, the king moved to a nearby building (now the presidential palace) and the original palace became known as the 'Old Palace'. In 1929, after the monarchy was abolished, the Greek government decided to move the parliament from its existing building at Stadiou street (now the National Historical Museum) to the old Palace. The parliament has resided here ever since 1935.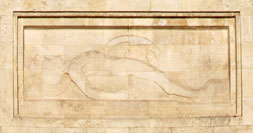 Tomb of the Unknown Soldier
Tomb of the Unknown Soldier
In front of the Parliament Building is the Tomb of the Unknown Soldier. The monument, with a large relief depicting a nude, dying hoplite, was inaugurated on March 25, 1932, on the Greek day of independence. On either side of the tomb are excerpts from Pericles's famous funeral oration inscribed on the wall.
Evzones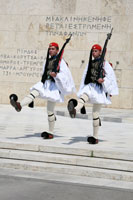 Evzones
The Tomb of the Unknown Soldier is permanently guarded by Evzones, members of the presidential guard in traditional attire, foustanella. The foustanella was worn by the Greek revolutionaries who fought the independence war against the Turkish between 1821 and 1830. It consists of a white skirt with four hundred pleats (the number of years of Turkish rule), white shirts with long sleeves, red pointed shoes with large pompons and an embroidered vest.
The change of the guards, on the hour, looks like a very slow dance where the soldiers kick their feet on the ground and in the air. On Sunday at 11 o'clock, the ceremony is more elaborate than the weekday event and features a marching band and an abundance of guards.