The Odeon of Herodes Atticus – the Herodeion – was a large covered theater built in the second century AD. The odeon partially survived and is still a popular location for plays, concerts and other events.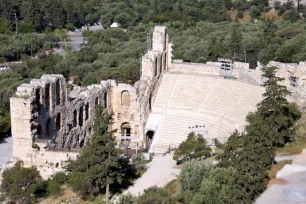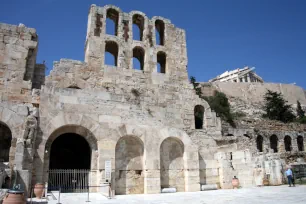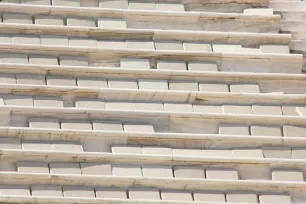 In ancient times, an odeon (or odeum) referred to a concert hall, which was usually smaller in size than a typical theater and often covered with a roof.
Herodes Atticus
Herodes Atticus was a wealthy Greek aristocrat and Roman senator who funded several public building projects, including the reconstruction of the Panathenaic Stadium in marble. In 161 AD, he built an odeon on the south slope of the Acropolis in memory of his wife. Some say he had his wife killed and built the odeon to assuage his guilt.
The Odeon
The odeon had thirty-two rows of seating and accommodated some five thousand people. It was built similar to Roman theaters, with a semicircular orchestra (stage) paved with black and white tiles. A cedar roof was built over the theater, improving the acoustics. The roof had no support columns, at the time quite an architectural achievement. The building's large façade had four arched stories, three of which are still partially visible. Niches contained statues of the nine muses.
Restoration
The building was destroyed in 267 AD by the Heruli, a Germanic tribe. In the 1950s the odeon was partially restored, particularly the audience seating area and the stage, which was paved again with marble tiles. Today the Odeon of Herodes Atticus is actively used for theater performances and concerts, especially during summertime when the annual Athens festival is held.