Antwerp's stadspark (city park) is 14ha / 35 acre large park located in the center of the city. Laid out in English style, it is the city's only romantic park featuring several statues and a historic bridge.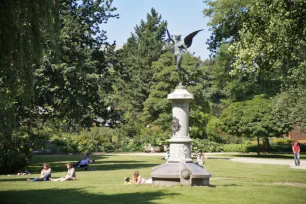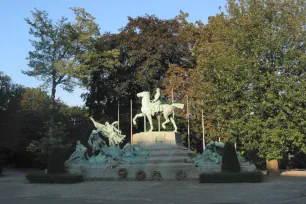 Most of Antwerp's parks can be found outside the city center. The largest park in the inner city is the 14 hectare (35 acre) city park or stadspark. It is located in the Jewish quarter, not far from the Central Station.
History
When the large fortifications around Antwerp were built between 1860 and 1865, the Spanish fortifications had become redundant. Among those military fortifications was Fort Herentals.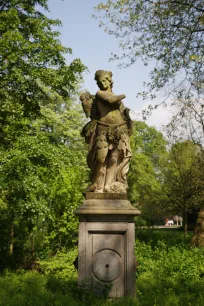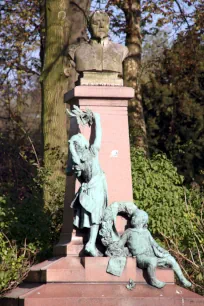 From 1867 to 1869, this fort's triangular domain was converted into a park by the Antwerp architect and city council member E. Van Cuyck. The park was laid out in English style after a design by the landscape architect E. Keilig.
The city park's pond partly traces the former fort's moat. Due to the construction of Antwerp's subway in the eighties and the many garages built underground, the water level had dropped significantly, giving the impression of a neglected park. Fortunately most of these problems seem to have been resolved.
Features
In 1869, a white painted pedestrian bridge was constructed over the pond. The iron suspension bridge is integrated into artificial rock masses on each side. It is one of the few elevated areas in the city.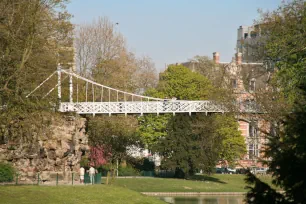 The city park also features a playground, a large WWI monument, a number of statues and even a WWII bunker. You also find a very wide variety of greenery, from yew trees, American linden and cypresses to a Japanese walnut tree.
Unfortunately the city park is too small to muffle the city noise or hide the view on apartment buildings. Nevertheless, it is a favorite place for joggers, walkers, mothers with children, rollerbladers and duck-feeding elderly.