The Oude Beurs was the city's exchange building until 1531 when trade activities moved to a new exchange building. An octagonal tower, a so-called 'pagaddertoren', was used as a watchtower.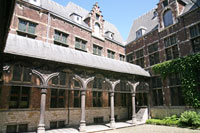 Oude Beurs
Antwerp started to grow as a trade center at the end of the fifteenth century and as a result merchants started to build warehouses and merchant houses. One of these was 'Den Rhijn', a Gothic building constructed in 1485.
The Stock Exchange
In the early sixteenth century, Antwerp overtook Bruges as the region's commercial center. Traders, who used to gather at a public square, started to meet in the courtyard of 'Den Rhijn'. As such, it is considered the city's first stock exchange building. Due to the explosive expansion of Antwerp's trade activities, the house soon became too small and in 1531 trade moved to a new exchange building, the Handelsbeurs, which in turn would influence the creation of London's Royal Exchange Building. The old stock exchange building became known as the 'Oude Beurs' (Old Bourse).
The Building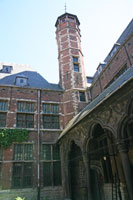 Pagaddertoren
Today the Oude Beurs houses municipal offices, but during working hours the inner courtyard is freely accessible. The street facade is from the nineteenth century and belies what's behind the doorway, where visitors will find a small but charming courtyard, flanked by an Italianate late Gothic arcade created in 1515 by the Flemish architect Domien de Waghemakere, best known for his work on the Cathedral. In the corner of the courtyard stands a small watchtower, built in 1533. It is one of nine surviving 'Pagaddertorens' in Antwerp.
Pagaddertoren
The 'Pagaddertoren' (Pagadder Tower) was used by merchants as a watchtower to look for the arrival of ships. Its name stems from the time of the Spanish occupation and is derived from the Spanish word pagadores. These 'paymasters' were usually soldiers who were too small to serve in the army, so the small towers were named after them. Even today, small children in Antwerp are called 'pagadders'.