The Waterpoort, an early seventeenth-century gate decorated with large sculptures, was moved twice before it ended up at the center of a small square south of the city center.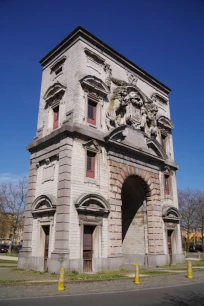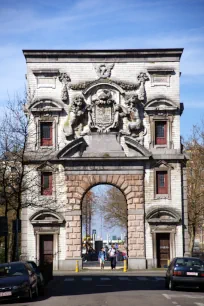 City Wall
The Waterpoort (Water Gate) was originally part of the defensive wall encircling the city from the fourteenth until the nineteenth century. The gate was located near the city center and gave access to the river bank, hence the name Water Gate. The gate was originally known as the Porta Regia in honor of the Spanish King Philip IV, as it was built during the Spanish occupation of the city. The renowned painter Pieter Paul Rubens is said to have designed the gate which was constructed by Huybrecht van den Eynde and Hans van Mildert in 1624.
Walking Gate
Locals also know the Waterpoort as 'the walking gate' as its location changed twice. When the city's quay was redeveloped at the end of the nineteenth century, the gate was moved from the Vlasmarkt more towards the south, on the Sint-Jansvliet, facing the riverfront. When the pedestrian tunnel under the river Scheldt was built in the 1930s, the gate had to move again, since the building housing the tunnel's air ventilation was planned right at the location of the gate. In 1931, the Waterpoort was temporarily stored in a municipal depot.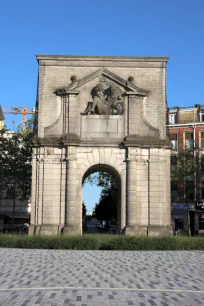 Five years later the gate was reinstalled, this time on the Gillisplaats, a square in the South neighborhood, where it has been integrated into a park. The gate appropriately gave access to the water of the south docks. Now that the docks are filled in, the gate no longer gives access to water. Instead of being a Water Gate, it now resembles a triumphal arch.
Decoration
The gate is abundantly decorated in Baroque style. On the east side, it features a statue of the mythological god Neptune, while the opposite side shows a coat of arms and heraldic lions.