The Stadsfeestzaal is a large hall originally built at the beginning of the twentieth century as a permanent site for official festivities. After it was destroyed by fire in 2000, the glass-vaulted hall was renovated and reopened in 2007 as a modern shopping center.
Construction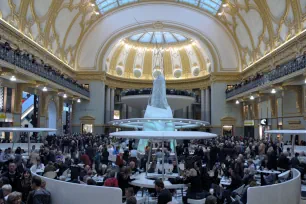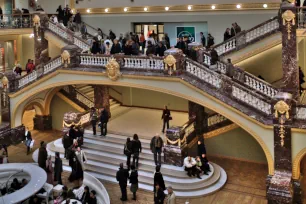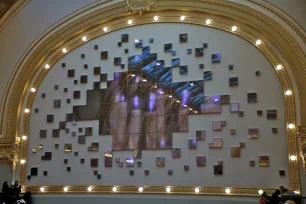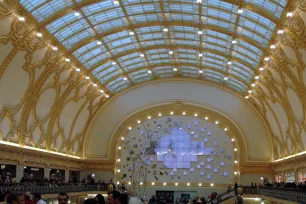 At the turn of the twentieth century, the city of Antwerp was in need of a large hall to hold the many festivities it organized during the year. The festivities were held at many different locations, sometimes even in the stock exchange building or in a theater. At the end of the nineteenth century, it was finally decided that a large hall would be built near the newly expanded Meir (now Antwerp's prime shopping street).
The large sumptuous hall, designed by architects Hargot and Hennebique, featured an impressive glass-iron vault, a large marble staircase and gilded decorations. The hall was connected to the Meir street by a large building designed by the city architect Alexis Van Mechelen, who was also responsible for the coordination of the whole complex. The front building, eclectic in style, is in harmony with the adjacent Innovation warehouse, which was completed the same year.
Stadsfeestzaal
The new hall, known as the Stadsfeestzaal (City Festival Hall), was an immediate success. It was used as a multifunctional complex and hosted all sorts of events. Important statesmen such as the country's king were welcomed here, but the hall was also used for much more mundane activities such as exhibits and even markets.
It was during such a market – a Christmas market – that disaster struck in December 2000 when a fire destroyed the hall, leaving only an iron skeleton.
Since the building was protected as a historic monument in 1983 developers were fortunately not allowed to tear down the building's skeleton. Instead, it was decided to reconstruct the building following the original 1906 plans and adapt it for use as an upscale shopping center. Construction started in 2004 and in October 2007 the new Stadsfeestzaal reopened.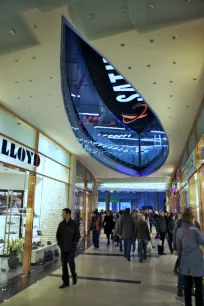 Shopping Center
Even for those averse to shopping, the Stadsfeestzaal is still a great attraction thanks to its architecture. The building successfully combines the marble staircase, mosaic floor, gilded facades and glass-domed vault with modern elements.
The shopping center is ideally located between the Meir – the city's central shopping street – and Hopland, an increasingly upscale shopping street. The complex is home to about forty stores, spread out over 20,000 sq. m. (215,000 sq. ft.).