Den Botaniek, also known as the Kruidtuin (herbal garden) is a small botanical garden not far from the Antwerp's historic center. It is undoubtedly the most charming garden in the city.
Origin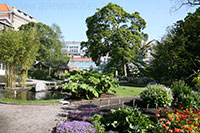 Kruidtuin
This small garden was originally created in 1804 for the students of the School for Surgery, Chemistry and Botany. The school was housed in the St. Elisabeth Hostpital adjacent to the garden. Later the garden became an offical scientific botanical garden.
The garden today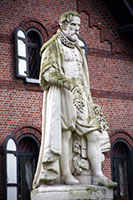 Statue of Peeter van
Coudenberghe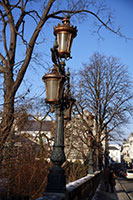 Lamppost near
the garden
Today, the garden is a protected landscape with about two thousand herbs. It is popular with locals who like to relax on one of the benches at noon. A small pond with large goldfish and a nearby sculpture decorate the charming garden.
The north end of the garden features a greenhouse which is unfortunately closed for visitors. At the other end of the garden you find a picturesque building resembling a Swiss alpine lodge, serving as a popular brasserie.
Peeter van Coudenberghe
In front of the building stands a statue of Peeter van Coudenberghe, a local pharmacist and botanist who kept a garden with exotic plants just outside the city walls. The plants were protected during wintertime by placing them in underground storages. The garden was destroyed by the Spanish Army during the siege of Antwerp in 1584-1585.
A series of beautiful ornate lampposts line the park at the side of the bordering street – the Leopoldstraat, a shopping street leading to the Bourla Theater.
Entrance to the garden is free, but the garden is only open during daytime.