The Antwerp Central Station is one of the world's most impressive railway stations. Dubbed the 'Railway Cathedral', it is one of the main landmarks in Antwerp.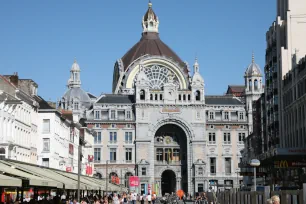 The railway station was built between 1895 and 1905 and replaced a wooden train station built in 1854 by engineer Auguste Lambeau.
Today the whole complex is over 400 meters (1300 feet) long and has two entrances, a historic domed building at the Astrid square and a modern atrium at the Kievit square. There are three levels of tracks and a shopping center which includes a diamond gallery with more than thirty diamond shops. It is also home to 'Plopsa Station', a theme park for children based on popular characters from local comic strips.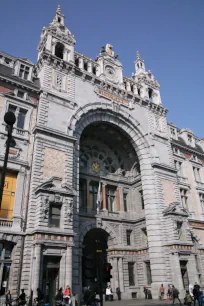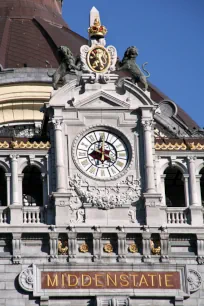 The domed building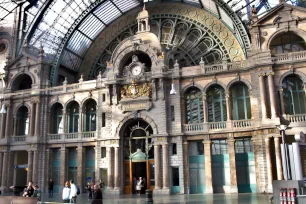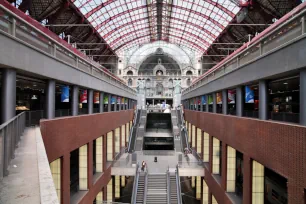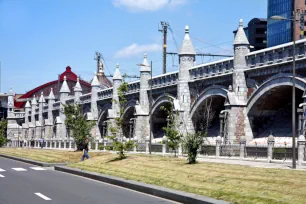 The monumental main building was designed by the Bruges architect L. Delacenserie. It has a huge dome and eight smaller towers, of which six were demolished during the 1950s. Fortunately, these were reconstructed in 2009 together with several ornaments, including large lion statues.
The rich interior is lavishly decorated with more than twenty different kinds of marble and stone. The main hall and the railway cafeteria can match the interiors of many palaces. Not a single square meter either inside or outside the building is not decorated.
The train shed
The platforms are covered by a huge iron and glass vaulted ceiling, which was restored in the 1990s. Besides the platform, the vault also covers many of the small diamond and gold shops, which are part of the diamond district next to the Central Station.
The huge glass vault was designed by the architect J. Van Asperen. It is 185 meters long and 44 meters at its highest point. The original platform and tracks themselves are elevated, the two lower levels were added later to accommodate the high speed train connection to Amsterdam and Paris.
Centers
The elevation of the rail tracks together with its bridges, decorations and the many little towers alongside the tracks were also designed by J. Van Asperen. The elevated construction, 3.8 km long (2.4 miles), is known locally as 'the centers'. The more than two hundred little towers were built between 1895 and 1898.
Expansion
An extensive restoration of the Central Station and the vault, which started in 1993 was completed 16 years later, in 2009. At the same time, the station was expanded with an additional entrance, a shopping center and two lower-level platforms, including one for high speed trains. These new levels allow trains to ride through the station below ground-level instead of having to make a detour as was the case before the expansion.