The Grote Markt is Antwerp's compact main square. Here you can admire a monumental fountain and the many gild houses surrounding the square, as well as the city's magnificent sixteenth-century city hall that dominates the square.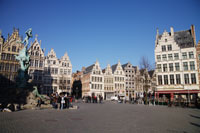 Grote Markt
The square's triangular shape originates from the municipal ground created during the era of the Franks, in the early Middle Ages.
Brabo Fountain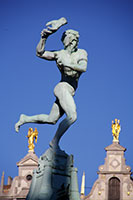 Brabo statue
The centerpiece of the square is a large fountain, built in 1887 by the architect Jef Lambaux. It depicts the protagonist of Antwerp's most famous legend: the mythical hero Brabo.
According to the Legend, the giant Antigoon demanded a high toll for each ship that wanted to enter the city. If the ship's crew did not want to pay the toll, their hands were cut off. The hero Brabo fought the giant, cut its hand and head and threw the hand in the river.
The fountain's statue depicts Brabo throwing the giant's hand in the river Scheldt and symbolizes the free passage through the river. As such, it is a political swipe at the Dutch, who long blocked (and still continue to hinder) free traffic on the Scheldt.
Guild Houses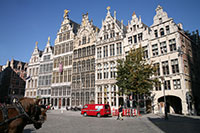 Guild Houses
Stadhuis
The Grote Markt is probably best known for the beautiful houses of the Guilds which align the square. Those buildings are relatively new. The original houses were destroyed in the fire of 1576. They were rebuilt in Flemish Renaissance style, but were revamped again in the nineteenth century, resulting in the current lavishly decorated houses. Note the beautiful statues on top of the guild houses.
City Hall
But the most impressive building on the Grote Markt is undoubtedly the magnificent stadhuis (city hall), built in 1565 in Flemish Renaissance style. It is lavishly decorated with ornaments and boasts a sumptuous interior that was redecorated in the nineteenth century.