The City Hall is one of several majestic buildings constructed in the sixteenth century, when Antwerp was one of the largest and most important cities in the world.
The city hall is considered the most important Renaissance building in the Low Countries, and influenced the design of many government buildings across North and Central Europe.
History
City Hall
During the middle of the sixteenth century, Antwerp's old Gothic city hall, built in 1406, had become too small for the rapidly expanding city, at the time known simply as 'the Metropolis'. The city council decided to build a new city hall just north of the existing one. Having just become the world's most powerful commercial center – eclipsing cities such as Bruges, Genoa and even Venice – the new building was to become a symbol of the city's wealth and power.
Design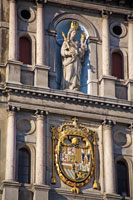 Statue and
coat of arms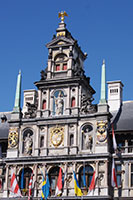 The central facade
The city council originally intended to build the new city hall in a Gothic style, but by the time the required funds were found, Renaissance had become the new fashionable architecture style, favored by progressive artists such as Cornelis Floris II de Vriendt, who was responsible for most of the building's appearance. The design by de Vriendt was influenced heavily by Italian architecture and is a Flemish version of Florentine palaces.
Construction of the building started in 1561 and was completed four years later. The facade is richly decorated with statues, ornaments and coat of arms. In 1587 Jesuits replaced the centrally located statue of Brabo – symbol of the city – by a statue of Mary. At the top of the building, a statue of an eagle faces towards Aachen, at the time the seat of the Holy Roman Empire.
The ground floor of the building consisted of small shops with in total forty-five small entrances. The construction of the city hall was partly funded with the rent received from those shopkeepers.
Spanish Fury
During the Spanish Fury in 1576, the new building was set on fire by mutinous Spanish soldiers, leaving only the exterior walls standing. The city hall was rebuilt three years later, in 1579.
Interior
Most of the city hall's sumptuous interior dates back to the nineteenth century, when the building was renovated to comply with the modern demands. The courtyard was covered, and a grand staircase was installed.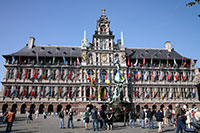 The interior is decorated with many portraits of painters, mayors, monarchs and other rulers. Nineteenth-century paintings by Henri Leys depict the city's tumultuous history.
Flags
Throughout most of the year, the main facade of the city hall is decorated with 87 flags. The central flags on the bottom row represent Antwerp, Flanders, Belgium, Europe and the United Nations. The other flags represent countries that are member of the European Union and nations that have a consulate in Antwerp.