Many renowned painters worked in Antwerp during the city's heyday, but Peter Paul Rubens is undoubtedly the most famous of them. The palatial residence and studio where Rubens worked and lived from 1616 until his death in 1640 is now one of Antwerp's most visited museums.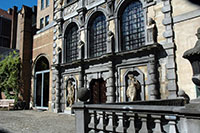 Rubens House
Almost all the works Rubens and his pupils created in the Rubens House (Rubenshuis) have been dispersed over major museums across the whole world, but there is still an impressive collection well worth the visit.
Besides paintings from the maestro himself, you will find other works of art and furniture from the seventeenth century as well as paintings from his pupils including works by Jacob Jordaens and Anthony Van Dyck.
The Rich and Famous
The Rubens House is a great attraction, mostly because it gives an idea of how Rubens lived and worked. His house was not only a studio, it was also a meeting place for the rich and famous. His clients included wealthy merchants, diplomats and aristocrats, including royals, who often visited his studio to see how work progressed. There was even a special viewing area which allowed visitors to see the artists at work.
The Palazzo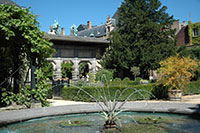 The garden
Italianate facade
Rubens bought the house at the beginning of the seventeenth century after his eight-year-long stay in Italy. Influenced by Italian architecture, he remodeled the building into an Italianesque palazzo and moved in the house in 1616.
The house also featured a beautiful garden and arcaded entrance. After his death, the building was sold. New owners modified the building considerably and by 1937 when the building was obtained by the city of Antwerp it hardly resembled the original structure.
The impressive portico, which connected the studio and the residence, is one of the few authentic parts that survived. Other parts have been carefully restored and reconstructed after original plans and paintings of the house.
Visiting the museum
The Rubens House is located at the Wapper Square. In a glass visitor pavilion in front of the Rubens House, you find a bookshop and the ticket office. Visitors can walk through the garden and visit both the studio and the private quarters.
The Rubens House is currently closed due to a thorough renovation of both the house and the garden. The renovation will include a new modern entrance at Hopland, replacing the current entrance at the Wapper Square. The museum is expected to reopen in 2027, before the 450-year anniversary of Rubens.