This neoclassical temple for the arts was built between 1884 and 1890. Its collection contains paintings by numerous Flemish masters, including one of the world's largest collections of paintings by Rubens, who had his workshop built in Antwerp.
History
Museum of Fine Arts
In 1875, a plan to develop a new neighborhood south of Antwerp was approved by the city council. In 1878, a competition was organized to design a new Art Museum in the middle of this neighborhood, known as 't Zuid (Southside).
The old museum, situated in the north of Antwerp, was destroyed by a fire. The competition resulted in a compromise where Jan Jacob Winders, the Antwerp architect who also designed a large monument in the new neighborhood, defined most of the exterior design.
The building
The museum, built as a temple for the Arts (similar to museums in Munich and Dresden) between 1884 and 1890 replaced an old Spanish Castle. It was one of the main attractions of the 1894 Antwerp World Exposition.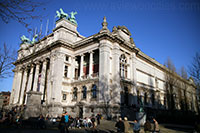 The temple is decorated with Corinthian columns and adorned by two large statues of the angel of peace leading a chariot. The statues were built in 1905 after a design from Thomas Vincotte. Originally the museum had four open courtyards, but those were roofed in the twenties.
Museum Collection
The museum houses a large collection of paintings from the fourteenth century onwards. Antwerp's most important painters – Rubens, Van Dijck and Jordaens – make up an important part of the museum's very rich collection, but other artists such as Titian and Frans Hals are represented as well.
The museum recently underwent extensive renovation work and reopened in September 2022.