The stadswaag is a historic square in Antwerp that was created in the sixteenth century around a weighing house (waag).
A new weighing house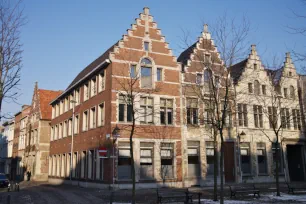 One of the major projects of Gilbert Van Schoonbeke – Antwerp's largest real estate developer of the sixteenth century – was the creation of the Stadswaag.
In 1540 Van Schoonbeke became responsible for several of the city's weighing houses. All merchandise coming into the city had to be weighed in one of these houses in order to determine the taxation. Due to the city's rapid expansion, waiting times for goods to be weighed had grown to several days. In order to bring the waiting time down, Van Schoonbeke decided to build a new weighing house at a large site he had just bought from the city council.
Development
The weighing house was built in 1547 at the center of a square to enable easy transportation of goods. Thanks to the nearby weighing house and newly built roads connecting the square with neighboring residential and commercial areas, the value of the parcels surrounding the square increased significantly. Demand for the parcels was very high and in just a matter of years the square was surrounded by mansions and warehouses, often owned by foreign merchants.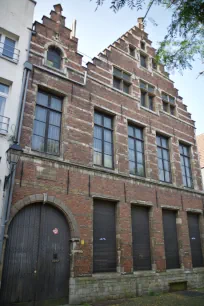 The area continued to be economically successful up to the end of the eighteenth century, when commercial activity moved more to the north of the city. Symbolic for the end of the area's fortunes, the weighing house burnt down in 1873. The only reminder of this large building is the square's name, as Stadswaag can be translated as 'city weighing house'.
The Stadswaag today
By the twentieth century, the area had lost its importance. Many buildings became vacant, and the square looked run-down. In the 1960s, however, the square was revived for some time when artists started to discover the area and the Stadswaag became synonymous with nightlife.
In the 1990s, the square was redesigned, resulting in a quieter, pedestrian friendly environment. Today, most of the surrounding historic houses have been renovated, giving a good idea of how the area must have looked like several centuries ago.