Amsterdam's Rijksmuseum is the largest museum of art and history in the Netherlands. With nearly one million objects in its permanent collection, this immense museum attracts thousands upon thousands of visitors each year, making it one of the city's most popular cultural attractions.
Rijksmuseum
Some of the objects stay on display regularly, while many pieces of the museum's collection travel to various parts of the planet, appearing as temporary exhibits in some of the world's finest museums.
The Collection
While the Rijksmuseum features works of many genres and from many regions, the most well known part of its collection are the many seventeenth century art masterpieces painted by the school known as The Dutch Masters. The museum is home to twenty magnificent Rembrandt works in addition to pieces by Vermeer, Hals, and Steen.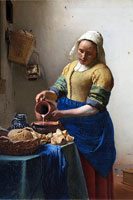 Het Melkmeisje,
Vermeer
Visitors will also find works by other Dutch painters, ranging from the fifteenth through the nineteenth century, as well as art by famous masters from around the world.
In addition to Dutch artistic masterpieces, visitors will also enjoy a look at Dutch history through the display of a variety of artifacts that represent the Dutch state and nation from the Middle Ages through the twentieth century.
Guests are also treated to fine examples of sculpture and decorative arts in a number of different mediums. You'll see traditional statuary, porcelain pieces, furniture, glass, jewelry, costumes, textiles, bronze and copper, and much more.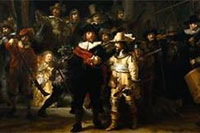 De Nachtwacht, Rembrandt
The Rijksmuseum's Print Room is also the largest in the Netherlands, though most are not on permanent display because of their frailness. However, the museum often displays various prints in temporary exhibits that last a few months. The Rijksmuseum's Oriental art on paper collection is among the finest in the world.
In a separate Asian Arts department, China, Japan, India and Indonesia are the most well-represented. Each country exhibits varied and diverse forms, and visitors can view masterpieces made of such materials as Indonesian stone and fine Chinese porcelain.
The Building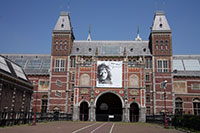 Rijksmuseum
Opened in 1885 and designed by architect P.J.H. Cuypers, the museum was built in the Gothic and Renaissance styles and was to be large enough to house a number of different collections, including one that was originally on display at The Hague.
In 1906-1909 and 1913-1916, new wings were added to the collection of nineteenth-century art. In the 1950s, the courtyard areas became exhibit rooms. During the current renovations, which are scheduled to last until 2009, the courtyards are being restored, and a modern annex will be added to the building.