Dubbed the "Venice of the North", Amsterdam's canals are not only attractive, but they're also a great way to travel around the city, enjoying the sights of this free-thinking European metropolis.
History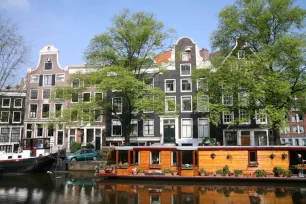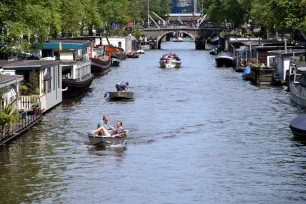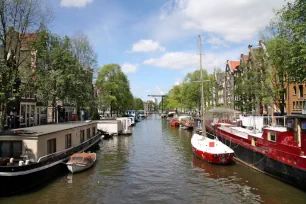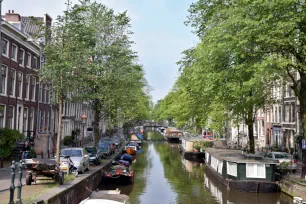 The canals of Amsterdam have been part of the city's landscape since the early fourteenth century. However, most of the current canals were built during the seventeenth century, Amsterdam's golden age.
At that time, officials of the thriving city decided to build a series of three concentric semicircular canals around the old city center.
As time passed, hundreds of narrow streets and smaller canals fanned out from the center, crossing the semicircles and creating 90 islands and 1,280 bridges, all within the city limits. The canals ended in squares on the outskirts of the city, which were often used as parking spaces because, for years, vehicles were not permitted in the city. Canals are sealed from the North Sea via locks, purportedly a Dutch invention of the fourteenth century.
Use of the Canals
Undoubtedly, the canals and the bridges that cross them are breathtakingly beautiful, and you'll want to snap tons of pictures as you walk along beside them. However, Amsterdam residents will tell you that the canals are much more than just a pretty sight.
Canals are an easy way to travel around the city. A municipal canal-bus system travels three different routes throughout the city, allowing locals an easy way to get to and from work and giving visitors the opportunity to travel from one attraction to the other on the water. The canals are also a thriving part of the tourist infrastructure of Amsterdam, in that many locals operate tour boat businesses on the canals.
The canals in Amsterdam also provide a popular place for recreational activities, from boating to parades. Many of the city's special events are held upon the waters of the canals. In the winter, locals ice skate on the frozen waters and then retire to the local eatery for a traditional cup of "snert" – pea soup.
Thirdly, the canals serve as a home for those who choose to live on one of Amsterdam's many houseboats. You'll find many throughout the city and may even be able to arrange to rent one for your vacation.
No Swimming
To maintain sanitary conditions, the canals are flushed three times a week when the locks are open and water flows in from the North Sea. Despite this, it's important to remember that the canals are used as sewage dumps for the many houseboats that line the city's waterways. For that reason, it's never a good idea to go swimming in the canal, though you'll see barges regularly cleaning out debris.