While popular with locals, this square is usually shunned by tourists due to its lack of major attractions, but there are some noteworthy sights around here.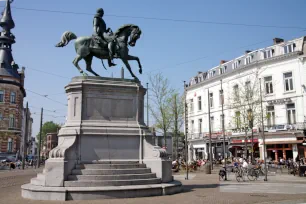 Unfortunately, the Leopoldplaats is intersected by tram rails, which take up the majority of the square. Nonetheless, as soon as the sun comes out, you will see plenty of people enjoy a beer at one of the café terraces that look out over the square.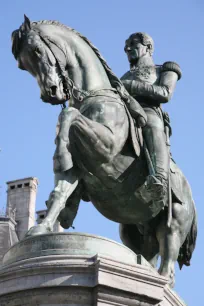 Statue of Leopold I
The centerpiece of the square is the equestrian statue of Leopold I, who became the first king of Belgium in 1831. The statue was created to celebrate the 25th anniversary of Leopold's accession to the throne. The bronze statue was cast by Joseph Geefs, a local sculptor whose brother Willem cast the famous statue of Rubens at the Groenplaats.
Leopold's statue was installed at its current location in 1872. The following year the square, then known as St. Jorisplein was renamed Leopoldplaats in honor of the former king.
Since King Leopold did not speak the language spoken by his subjects, inscriptions on the sides of the pedestal show transcriptions of the king's speeches in French.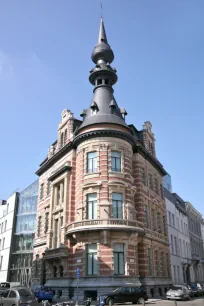 Ackermans & van Haaren Building
To the southwest of the Leopoldplaats stands the square's most curious looking edifice, a corner house built in 1883. It was designed by architect Edmond Leclef, who created a three-story building in Neo-Flemish Renaissance style crowned with a remarkable spire, almost as tall as the building itself. The spire is depicted prominently in the logo of Ackermans & van Haaren NV, a holding company headquartered here. The building was expanded in 2004 when a modern structure with a glass facade was added as an annex to the historic corner house.
National Bank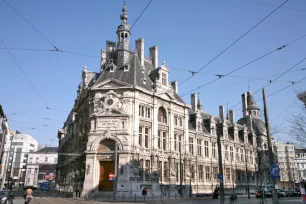 Another remarkable structure bordering Leopoldplaats is the former building of the National Bank. It was designed by architect Hendrik Beyaert in a Neo-Renaissance style and modeled after the famous Château of Chambord in France.
From the square you actually see the back of the building, if you want to see the National Bank building in all its glory, you should walk towards the Britselei from where you have a full view of its palatial front facade.