Commissioned by a shipbuilder, this early twentieth-century building is one of Antwerp's most remarkable Art Nouveau buildings.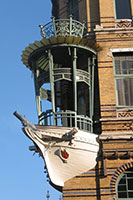 The Five Continents
One of the most interesting housing complexes on the southside is 'The Five Continents'. It consists of four houses in Art Nouveau style, a style often found in this part of Antwerp. One of the houses – like so many in the city – has been demolished and replaced by an anonymous house at the beginning of the seventies.
The building
The complex was commissioned by the shipbuilder P. Rouis who added a ship's bow to the original design of the architect, Frans Smet-Verhas. This remarkable feature has given the houses the nickname 'het bootje' – 'the little boat'. Another feature which makes this housing complex so interesting is the stepped structure ending in a terrace.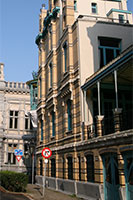 Other characteristics of the houses are the layers of yellow brick, which are typical for Art Nouveau architecture in Antwerp. The exterior contains other nice examples of Art Nouveau architecture like the use of wrought iron and the use of dynamic curved lines in the design. The 'Five Continents' was built in 1901 and the three surviving buildings were declared protected monuments in 1976.
Location
'The Five continents' is located at the corner of the Schildersstraat and the Plaatssnijdersstraat, just behind the Royal Museum of Art. It is just a stone's throw from another interesting building in the neighborhood, the Main Synagogue in the Bouwmeesterstraat.