The Groenplaats or 'Green Place', one of Antwerp's most prominent squares, is located in the heart of the city's historic district, near the cathedral. At its center stands a statue of Antwerp's most famous painter, Pieter Paul Rubens.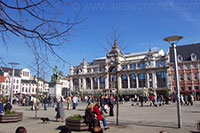 Groenplaats
Not as green as its name suggests, the Groenplaats is a square bordered mainly by cafés. The café terraces are very popular with both tourists and locals and are a great place to try some of the many specialty beers.
Cemetery
Until the eighteenth century, the Groenplaats was Antwerp's main cemetery. During the Austrian occupation, Emperor Joseph II abolished cemeteries inside the city walls, so it was converted into a square. Locals continued to call the square 'green cemetery'.
Rubens Statue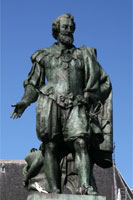 Rubens Statue
Since 1843 a bronze statue of artist Rubens has graced the center of the Groenplaats. It replaced a large crucifix that stood here. The statue honors Antwerp's most famous citizen, the prolific painter Pieter Paul Rubens, whose dramatic Baroque paintings are displayed in churches and museums all over the world. He lived here from 1587 until his death in 1640.
The statue was commissioned by the city council in 1840, at the bicentennial of Rubens's death, and was created by local sculptor Willem Geefs.
The square today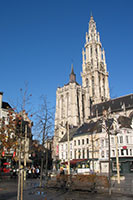 View towards the
cathedral
The square's current appearance stems from the 1990s, when an underground parking garage was built below the square. Around the same time, a number of developments improved the appeal of the square drastically. A multistory parking lot was replaced by a postmodern building and a derelict 1920s building which formerly housed a large department store was renovated; it is a Hilton Hotel.
The square offers great views of the Cathedral, which borders the Groenplaats to the north. It is also the starting place of a tourist tram, which offers a ride along some of Antwerp's most interesting sights.