After a successful exhibition of an international open air sculpture exhibition in 1950, the city of Antwerp decided to create a permanent exhibition in Middelheim Park, just south of Antwerp's city center.
History
Middelheim Castle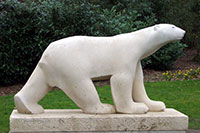 Polar Bear, François Pompon
South of Antwerp's city center, just across the Ring highway, lies one of the cities' largest green spaces, the Nachtegalenpark. It comprises several parks, including park Den Brandt, Vogelenzang and Middelheim.
The parks were private property with summer residences for Antwerp's nobility until 1910, when the City of Antwerp decided to purchase the whole property.
In 1950, an international open air sculpture exhibition was held in one of the parks, Middelheim. The success of the exhibition, with more than one hundred sculptures on display, gave the mayor Craeybeckx the idea of a permanent exhibition. The collection was expanded over time and received a boost in 1993, when a large number of modern works were acquired to coincide with Antwerp's designation as the cultural capital of Europe. The museum continues to acquire new works, with a recent focus on contemporary works.
Middelheim Park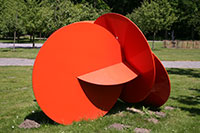 Odyssey, Bernard Rosenthal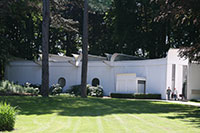 Braem Pavilion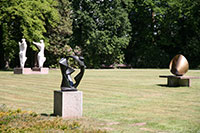 Sculpture Park
Today, Middelheim park contains an open air sculpture museum with a collection of more than 200 works of art. The park, 27ha (67acre) large, is divided into two parts: Middelheim-Hoog, the largest, southern part of the park contains the majority of the works, ranging from late 19th century to contemporary works while Middelheim-Laag displays large contemporary works.
In Middelheim-Hoog, you can also visit some indoor sculptures in the Braem pavilion, built by the Antwerp architect Urbain Braem, a former trainee of Le Corbusier. The other building in the park is the Castle Middelheim, a fifteenth-century farm which was converted into a Louis XVI style castle. This elegant building is home to a restaurant and a Visitors Center.
The collection
The museum's collection has a high international reputation. It contains more than two hundred sculptures, including works from famous artists such as Auguste Rodin, Rik Wouters, Henry Moore, Max Bill, Alexander Calder and many more.
The Middelheim park's entrance is at Middelheimlaan 61. Audioguides can be obtained in the Middelheim Castle. Entrance to the sculpture park is free of charge.