What was once a farm known as Hooftvunder was turned into a castle, named after its owner, Gerard Sterck. The castle was long home to the Zilvermuseum, a museum with a magnificent collection of silver objects.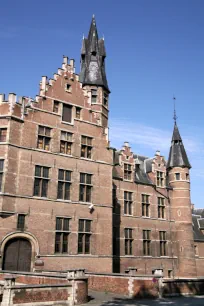 Hooftvunder
In the fourteenth century, Hooftvunder was a fortified farmstead in Deurne, at the time a rural village just outside Antwerp. The farm – the largest in the region – was surrounded by a moat. In the following centuries the farm would expand into a large complex comprising an additional farmhouse and its own brewery.
Gerard Sterck
The domain changed hands several times until it was sold in 1524 to the Antwerp merchant Gerard Sterck. Sterck was a wealthy banker, and one of the main financiers of Emperor Charles V. The ennobled banker demolished the existing farm and replaced it with a castle, more befitting a man of his position. The castle became known as the Sterckshof.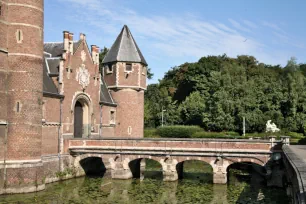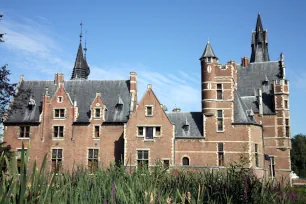 During the following tumultuous centuries – when plundering bandits from Maarten van Rossem and Spanish and Austrian invaders ravaged the region – the castle suffered some damage, but came through relatively unscathed. During the eighteenth and nineteenth centuries, however, the castle started to fall into disrepair due to lack of maintenance and by the time the province of Antwerp acquired the castle in 1921, it was little more than a ruin.
Reconstruction
Plans to rebuild Sterckshof were made as early as in 1922. Architect Jaak Alfons Van der Gucht based his plans on historical illustrations of the castle. The reconstruction of the building was constantly delayed, mainly because authorities hadn't decided on a use for the castle. Construction eventually started in 1931, if only to put some of the many people who had lost their job during the Great Depression to work.
Museum
When the castle was rebuilt in 1936, plans were made to use Sterckshof as the center of an outdoor museum dedicated to Flemish culture. The Second World War thwarted those plans, and Sterckshof eventually became home to a more conventional museum.
At first, it housed a museum of Flemish civilization which evolved into a museum of handicrafts which later specialized in silver artifacts that became known as the Zilvermuseum (Silver Museum). In 2014 the museum closed, but its collection moved to the historic center of the city, as part of the new Museum for Diamonds, Jewelry and Silver which opened in 2018 under the moniker 'DIVA'.