Ever since the mid-sixteenth century, this historic square known as Vrijdagmarkt has been the scene for auctions of second-hand wares. The square is bordered by the Plantin-Moretus Museum, one of Antwerp's most important museum
The market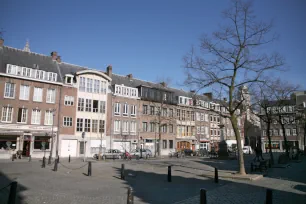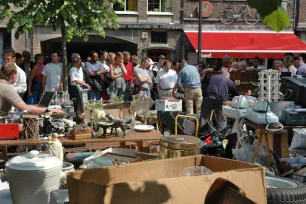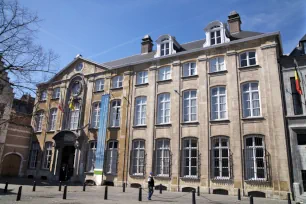 In 1547, Gilbert van Schoonbeke jr, a real-estate mogul avant la lettre, bought a large estate near the city center. He created a market here for the vendors of second-hand clothes, who until then didn't have a fixed marketplace. At the request of the vendors, the square was named Vrijdagmarkt (Friday market) as they held auctions on that day.
At the time, buying and selling used clothes was very common; even the clothes of renowned local painter Pieter Paul Rubens were auctioned here after his death. Today, more than four centuries later, the market is still being held every Friday morning when furniture and other second-hand items are auctioned.
At the center of the Vrijdagmarkt you can see a statue of St-Catherine, appropriately she is the patroness of the 'old cloth-buyers'.
Plantin-Moretus Museum
In 1549 van Schoonbeke started to develop the streets surrounding the square. One of the parcels of land was sold to a Portuguese trader, Martin Lopez, who built his house there. In 1576 Christoffel Plantin, a printer, moved into the building.
From this building he would manage one of the leading printing companies in the world. The whole building has been preserved – including the printing workshop and library – and is now one of the city's most interesting museums, the Plantin-Moretus Museum.
V-bomb
Much of the Vrijdagmarkt was destroyed in 1945 after a German V1 bomb hit the square. Soon after the war, it was restored to its original condition.