As its name implies, the Oude Kerk is the oldest church in Amsterdam, with a history dating back to the early fourteenth century. Most of its decoration was demolished during the Reformation, when Calvinists destroyed sculptures and ornaments.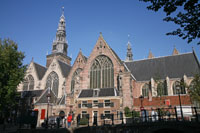 Oude Kerk
The church is located at a small square right in the middle of the red-light district, surrounded by shops and cafés. Several small houses from the seventeenth and eighteenth centuries lean against the church's walls.
History
As early as in the thirteenth century, a wooden chapel was built at the site of the Oude Kerk. It was soon replaced by a small stone church. The current Gothic structure dates back to the early fourteenth century, when it was built as a basilica. During the following centuries the church was constantly expanded and its floor plan evolved into a cross-shape.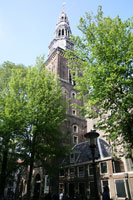 Church Tower
The tower, originally built in 1325, was increased in height in 1564 and the spire was added one year later, in 1565.
The Name
In 1330, when the church was dedicated to Saint Nicholas – patron saint of Amsterdam – it was known as St. Nicholas Church. After the Alteratie – the Reformation during which Protestants took power – the Protestants rechristened the church. It was named Oude Kerk to distinguish it from the Nieuwe Kerk (new church) at the Dam Square.
Interior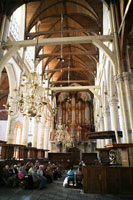 Interior
The interior of the Oude Kerk is very sober, the result of looting by the Calvinists – extremist puritan Protestants – during the Alteratie (Reformation) at the end of the sixteenth century. Some decorations survived, however, including the misericords, tombstones and faded murals on the wooden vault. They were covered with several layers of paint in 1775, but in 1955 the original paintings on a gilded background were uncovered.
A highlight of the church are the four stained-glass windows that survived the destruction during the Reformation. The three windows in the former Chapel of Our Lady show biblical themes. Opposite these is a stained-glass window commemorating the Peace of Munster, which resulted in the independence of the Netherlands.
Carillon and Organ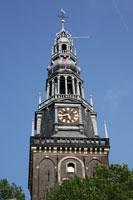 The spire
The Oude Kerk is known for its organ concerts, which are played on the church's large organ that was built in 1724. The forty-seven clocks of the carillon, which were added to the spire of the Oude Kerk in 1658, chime at regular intervals.
Events
The church plays not only host to organ concerts, but there are often other musical concerts held here as well. The Oude Kerk is also used for art exhibitions, which nicely compensates for the church's lack of ornamentation.